Last weekend was life-changing for the Tŷ Hafan All Stars ice hockey team in more ways than one as they took part in the annual charity tournament at Vindico ice arena in Cardiff.  
When Dreams Come True team member Craig Poynter collapsed on the ice mid-match on Saturday afternoon, Tŷ Hafan's Rick Strang led a group of fellow players to perform life-saving CPR on the father-of-two.
Emergency Care Nurse/Consultant Rick, pictured above right, who works in A&E in King's College Hospital NHS Foundation Trust, led fellow nurse Jordan Phipps, playing for British Heart Foundation, GP trainee Mike McCrudden, team Tŷ Hafan, and police sergeant Andy May playing for Breast Cancer Cymru, to perform CPR on 38-year-old Craig on the rink itself.
Following a successful resuscitation, including the use of the defibrillator to shock Craig, he was on his way with the Helimed team within 11 minutes of his cardiac arrest. He was taken to University Hospital of Wales cardiac centre for life-saving heart surgery.
"I was happy to help" said Rick, "in what was a very scary and serious situation for everyone."
"Fortunately we are trained for this although being on an ice rink in full ice hockey gear was a bit different! It was a great team effort with a fantastic outcome. I'd urge everyone to learn simple CPR and know where your local defibrillator is in case it's needed."
Craig, pictured below with his two sons at home in Nottingham after being discharged from hospital, has since made a full recovery.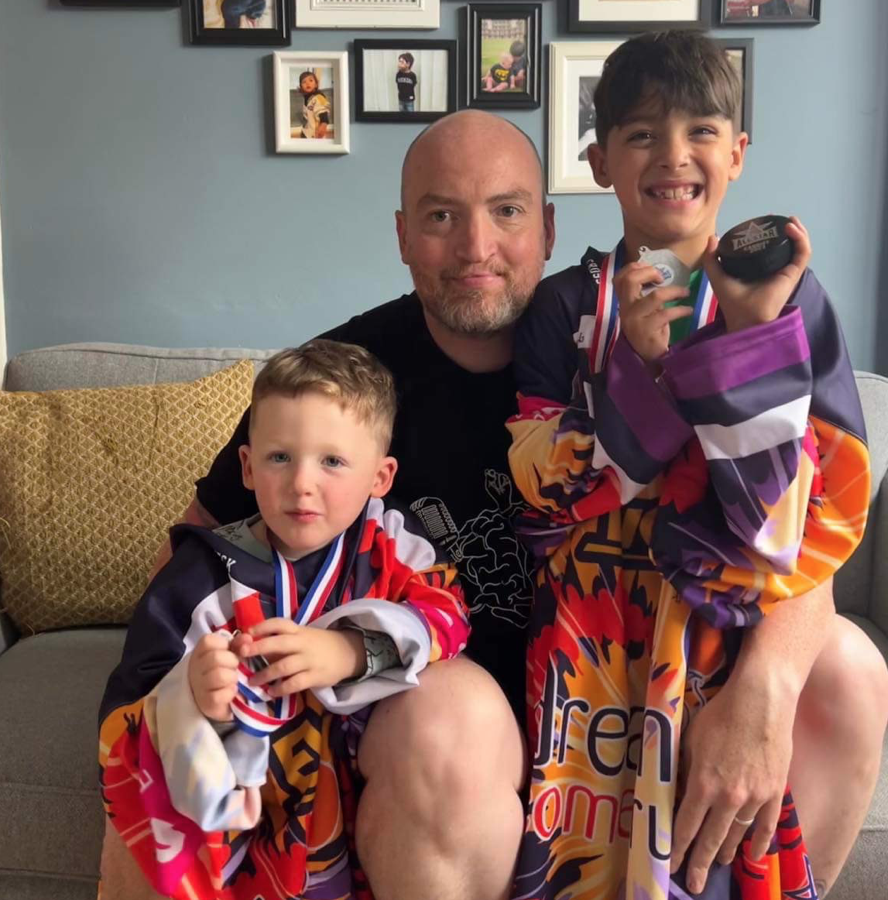 The weekend was also life-changing for Caerphilly's Chris Thomas, pictured above left with Rick Strang. For Chris not only joined the Tŷ Hafan team for his All Stars debut – but it was his first ever hockey match too!
A devoted Cardiff Devils fan, Chris played in memory of his daughter Scarlett who died in September 2018 at the age of just four. Scarlett, who was diagnosed with a chromosomal condition so rare it didn't have a name and was cared for by Tŷ Hafan, was the team's mascot before she passed away. She is pictured below with Claire and Chris and members of the Tŷ Hafan All Stars at a previous year's tournament.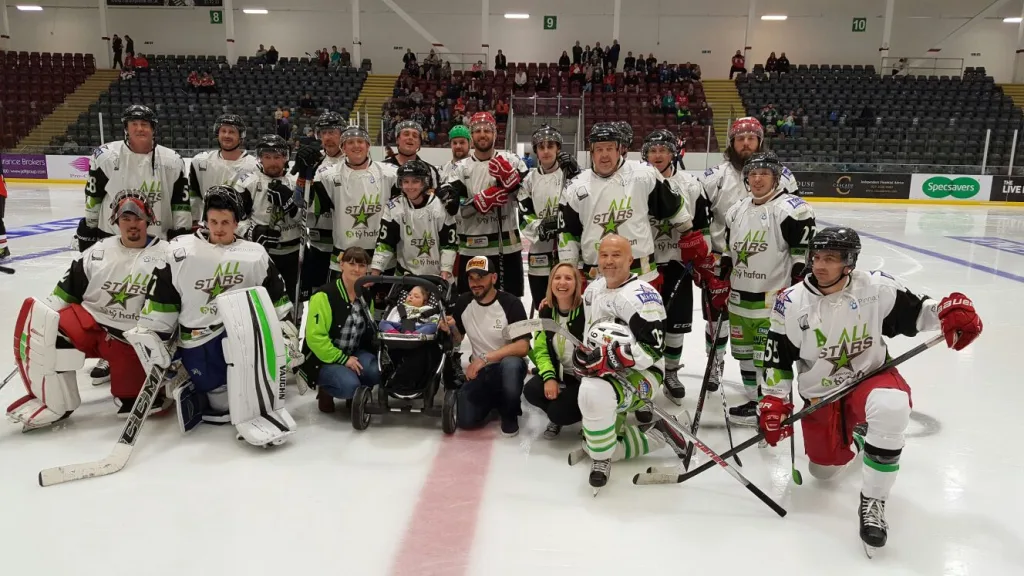 Chris's partner Clair Partridge was there to cheer him on during Saturday and Sunday, as he took part wearing the team jersey with Scarlett's badge over his heart.
And on Sunday afternoon after the tournament concluded the couple were joined by Rosea Poynter, Craig's wife, to present the life-saving group with the event's first ever Scarlett Cup, in recognition of their actions.
As to the outcome of the UK Charity All Stars tournament itself, eight teams took part, including Help for Heroes, Dreams Come True, British Heart Foundation and MIND, with the Barbarians the eventual winners.
Tŷ Hafan's All Stars have been playing in the tournament since 2016 and have raised more than £75,000 for charity since then. This year Tŷ Hafan's 18 players raised just under an incredible £19,000 – and came fourth overall.
Helen Morgan, senior community fundraiser for Tŷ Hafan, said: "We are so grateful to the team for their continued support for our charity, raising thousands of pounds for us year after year!
"Lots of Tŷ Hafan families received guest tickets to attend the matches and there was a great turn-out to support the team, who ended up in fourth position. Staff and volunteers were also there to cheer them on! It was a huge pleasure to join the crowd in cheering the teams on over the weekend – we were all so proud of our Tŷ Hafan team and congratulations to the Barbarians team who won the tournament this year!"
Captain of Tŷ Hafan's team and a Trustee of the charity, James Pepper, said: "The team has been fantastic this year and really thought outside of the box to raise as much money as they can for Tŷ Hafan."
The Tŷ Hafan All Stars 2023 team, pictured below, are now already planning for next year's tournament!