On Sunday, October 1, 89 of runners completed the Cardiff Half Marathon for Tŷ Hafan's Children's Hospice, raising almost £30,000 to support our work with children with life-shortening conditions and their families in the process.  
Tŷ Hafan's Cardiff Half runners joined more than 20,000 runners to tackle the 13 mile route which showcased some of the city's most famous landmarks including the Principality Stadium, Cardiff City Stadium, Cardiff Castle, Roath Park and the Cardiff Bay Barrage.
It was the event's 20th anniversary year and participants were entertained by choirs, bands and a range of performers along the route, as well as being cheered on by tens of thousands of spectators in near-perfect running conditions.
Grant Robson was our fastest runner on Sunday finishing in 1:34:05. Grant, Race Number 3241, also did the Ironman challenge for us in Tenby last month and will also be doing the London Marathon for Tŷ Hafan next year.
Says Grant, pictured below right post-race with his children: "Firstly, I live in Penarth and witness first-hand the impact Tŷ Hafan has on children and young people less fortunate than ourselves, and as a father of 3, the support and comfort the hospice provides for families is priceless.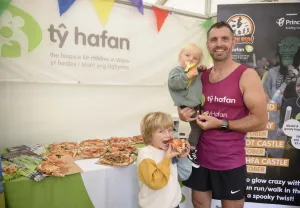 "Also, my father recently passed away in March of this year and was a dedicated advocate of Tŷ Hafan and the works completed, so to support in anyway I could to raise vital funds for an amazing cause and in memory of my Father, is something that I will endeavor to continue moving forward.  Completing the Ironman and Cardiff Half Marathon this year and London Marathon next year are a few opportunities to do this, and I hope to continue supporting Tŷ Hafan in the years to come."
First time Cardiff Halfer Louis Perrett, Race number 22265 and pictured below, says: "The Cardiff half was a great event with an amazing atmosphere and for my first time I enjoyed it. I chose Tŷ Hafan as my fundraising charity because I wanted to raise money for a local charity that has been amazing to family and friends of mine over the years."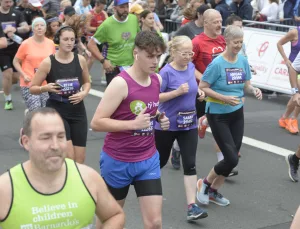 First time half marathon runner Jack Moriarty says: "I am deeply grateful for the incredible support provided by Tŷ Hafan during my journey in the Cardiff Half Marathon. When I decided to take on this challenge, I knew it would be challenging, but the assistance and encouragement I received from Tŷ Hafan made a world of difference."
Finally Leanna Griffiths says: "'The Cardiff Half was tough but running it to raise £600 for a fantastic charity in memory of my late father Jason made it so worthwhile. The cheer station at mile 9 really spurred me on."
James Davies-Hale, Head of Fundraising for Tŷ Hafan Children's Hospice, said: "On behalf of us all at Tŷ Hafan I would like to say a huge thank you and well done to everyone who ran this year's Cardiff Half Marathon for us.
"You have been simply outstanding and you can rest assured that the money you have raised for us will help us to keep on providing vital care and support for children with life-shortening conditions and their families in Wales.
"It costs £5.6m a year for us to do what we do, and without the hard work, effort, kindness and generosity of our Cardiff Half Marathon runners we simply would not be able to do what we do.
"I'd also like to say a huge thank you to Principality Building Society for their wonderful support with this event which has included gifting us an additional 50 places for participants to run for Tŷ Hafan."
If you'd like to #runforTyHafan find out more about upcoming events here: https://www.tyhafan.org/support-us/taking-part-in-an-event/run-for-ty-hafan-2/