On Friday 14th April this year, Sam Warren laced up his trainers, secured his helmet and hopped on his bike to ride to Tŷ Hafan. But this wasn't just a leisurely trip – it was a long journey from Bristol to Sully to raise money for us!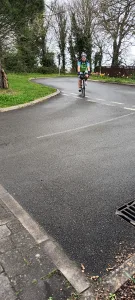 It took almost six hours (including a few brakes – see what we did there?) for Sam to get to Tŷ Hafan from his Bristol-based workplace, a distance of more than 50 miles. Just thinking about it brings a drop of sweat to our brow! 
Sam told us: "A few months ago I visited the hospice as a volunteer with my work to help out with painting.
"When I found out what Tŷ Hafan does and how much they had to raise each year, and as someone with a young daughter and a second child on the way, I wanted to help out by raising some money. 
"I am passionate about cycling, so I decided to do a sponsored cycle from my workplace, Brakes, in Portbury, to Tŷ Hafan hospice – around a 54-mile ride. I felt that this was the least I could do to help them carry on an amazing job they do.
"After leaving work at around 6 am, stopping a few times, I arrived at 12:45 pm, with some very achy legs, to a warm welcome at Tŷ Hafan hospice." 
It was our pleasure to welcome you to Tŷ Hafan after your epic bike ride, Sam. Thank you for your excellent efforts! 
To donate to Sam's JustGiving page, click here.
******
Inspired to fundraise for Tŷ Hafan? We would so appreciate that! Find out more about fundraising for us here.