Stay and Play is a monthly meetup at the hospice for families with pre-school aged children or children whose complex needs mean that they're unable to go to school.
These events are all about getting together, having fun and making treasured memories. They're led by a multi-disciplinary team, including our Family Support, Play and Complementary Therapy teams. That means the sessions are varied, offering a range of activities and support for the children and their parents or carers.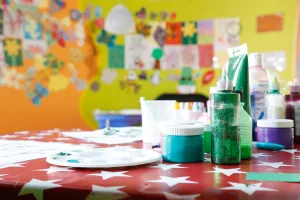 Morning
The mornings include lots of free play and sensory exploration. And when the South Wales weather allows, we get outside to play in our inclusive coastal playground.
Lunchtime
When lunchtime comes and tummies start rumbling, the Play Team sits with the children so that the parents can have some time to eat together. Our chefs always prepare varied and yummy options that cater for all!
Afternoon
After lunch, we have structured activities for everyone to get involved with. We get the children together to enjoy entertainment like inclusive dance, multisensory creative sessions and music sessions with a group sing-along. We round off the day with a relaxing story massage (a story with massage included!) to wind down.
Did you know…?
We have a toy and leisure library where we keep inclusive and adapted toys for families to take home to play with.
How Stay and Play helps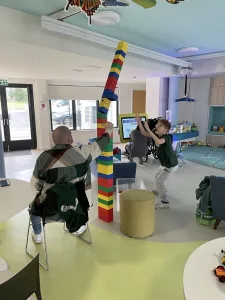 Stay and Play gives the children a full day of play and stimulating activities catered to their abilities. It's often the only time the children are able to play fully inclusively.
Some families don't get any additional support, such as families with a child who isn't able to go to school because of their complex needs. Stay and Play can be their only opportunity for respite and accessible activities.
While the children have fun, parents get some time to relax and connect with others who can relate to their experiences. Complementary Therapy is available for them, including massage and aromatherapy, so they can truly unwind while knowing their child is in safe hands.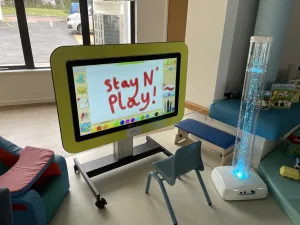 Space at Stay and Play is limited for now, but we hope to open this service to more families in the future. Our regular Community Hubs, which take place in lots of locations across Wales, offer a similar service for families in their local communities.
What our families say
"Stay and Play has a huge positive impact on both our child and us as parents. Our child has been unable to attend school due to his health and unfortunately, despite many attempts, there is still not a school that is local enough for him to manage the commute that can meet his complex health needs.
"This means that he is home all day every day with me and can lack structure, routine and interaction with others. It is also challenging to get out of the house as so few places are fully accessible.
"Tŷ Hafan is the only place I can take our child for a full day. Not only do Stay and Play sessions manage and facilitate his physical needs, but they also are full of varied stimulation, social and other activities that he can meaningfully engage in. We now have lots of photos and happy memories of the day, which is so important when your child's health and life often feels very fragile."
How you can help
It's only with the generosity of people like you that we can keep making short lives full lives. Donate today by clicking here.