Hundreds of people each year spend their free time raising essential funds for our care services. As far as we're concerned, they're all heroes. 
A dramatic chop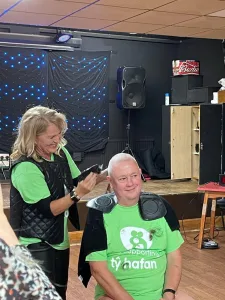 Christopher Guy is a big fan of Elvis Presley. His pride and joy was his jet-black Elvis-style hair and he bravely had it all shaved off as part of a wider fundraising event in Penarth Conservative Club to raise money for us! £1,056 was raised in total so, as Elvis would say, 'thank you very much'! 
A winter wedding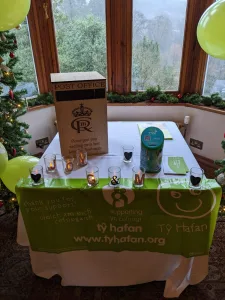 Wedding bells were ringing on 30th December and Geraldine and Martin O'Sullivan asked for donations to Tŷ Hafan in lieu of gifts, raising £527.01 for us.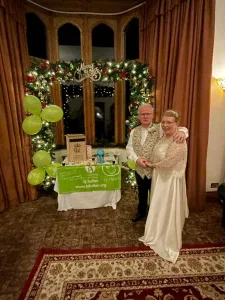 Congratulations, Geraldine and Martin, and thank you for your generosity! 
A Christmas display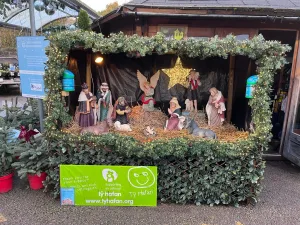 Guy Chapman is a long-time supporter of Tŷ Hafan. Every year, he sets up a Christmas scene outside his house in Dinas Powys and a Nativity display at Pugh's Garden Centre to raise money for us. In total, he has raised an enormous £8,191.35. Thank you for everything you've done for us, Guy. 
The Firewalk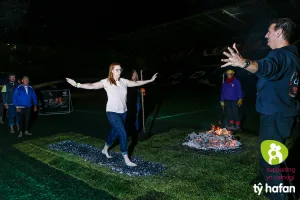 Some of our supporters even walk over embers for us! We hosted a Firewalk event at Cardiff City football stadium, where valiant fundraisers walked across a five-metre stretch of wood embers at 800 degrees in heat. And yes, they did it barefoot! This fundraising event raised £16,895.83, so here's huge thanks to everyone who took part. 
Fundraising for
Tŷ Hafan
Inspired by these stories? Fantastic! 
The world is your oyster when you fundraise for Tŷ Hafan. You can host an event, take on a challenge, make and sell or do something completely unique! 
Our Supporter Care Team will be with you every step of the way. Get in touch with them by calling 02920 532 255 or emailing supportercare@tyhafan.org.