Siblings of children with life-shortening conditions face big challenges. Watching their brother or sister go through physical and emotional stress, and sadly end-of-life care, can bring a lot of worry, trauma and grief that many of their peers simply can't relate to. 
How we help siblings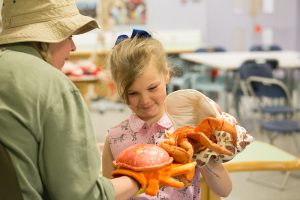 Thanks to the ongoing generosity of our supporters, we give siblings a community where their peers understand. In fact, we have a whole team dedicated to being there for siblings, led by Kelly-Jo, our Sibling Support Worker, and driven by our peer support group Supersibs, where the siblings have an opportunity to engage with siblings facing the same worries and concerns. 
We often see that the siblings of children referred to Tŷ Hafan have many worries and anxieties, and can find it difficult to express their emotions. We can provide one-to-one support and numerous therapies to help them navigate and overcome these emotions, and to deal with bereavement and grief. 
We have play therapy, music therapy and complementary therapy provision! Our Play Specialist can also help those siblings who have become afraid of medical interventions due to their experiences. All of these services are provided in the hospice, community or wherever it is needed.   
The
Supersibs
club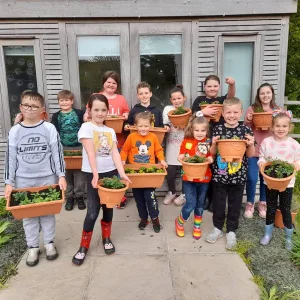 On the first Sunday of every month, we hold our Supersibs group which is so much fun! There are two groups: one is for children aged four to 11 and the other is for children aged 11+. 
The young people who go to Supersibs can transition between the two groups gradually during the year they turn 11 so that they can settle in. Some of the young people at the Supersibs group for adolescents like to volunteer with the younger children. 
"They're all in the same boat. They have an understanding between them – a bond they all have together. They benefit from being together here," says Kelly-Jo, our Sibling Support Worker. 
As for what happens at Supersibs, it's a space for siblings to relax, let loose and be themselves. They have campfires at the beach, watch films, have sports days, themed games and activities, day trips to places like the Aqua Park and Cardiff City FC and so much more. 
We're always looking to expand our range of activities and it has been a joy to have started working closely with Cardiff Museum to enhance our offer. 
For children who aren't able to come to the hospice often, we host a virtual Supersibs group on the same day as the in-person meet-up. 
Halfway through the month, we also do a virtual Roblox meet-up! The children choose the Roblox game they'd like to play together, and it gives them the opportunity to see each other every other week and do something they enjoy. 
With your help, siblings of children in Wales with life-shortening conditions can get support, whatever their situation might be. 
Find out more about our care services for families. 
Emily and Ruby's story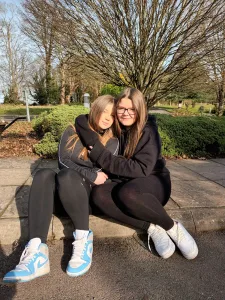 Emily and Ruby, who are both 14, have been coming to Supersibs since they were young. Emily's sister, Lucie, comes to the hospice and Ruby's sister, Elizabeth, died in 2021. 
The duo are now best friends, having developed a strong bond at the Supersibs club two years ago. 
"It was February 2020. We were in one of the rooms upstairs eating pizza and watching Maleficent with Kelly-Jo," Emily explains.  
"It was when I was changing up to the older Supersibs group. We just clicked. We live quite far away from each other, in Barry and Bridgend, but we keep in touch a lot outside of Tŷ Hafan," adds Ruby.
Many siblings we support find that being able to spend time in a relaxed setting with peers who can relate to their own experiences is incredibly valuable. "We usually meet up twice a month. We go to the Supersibs group for our age group and then we volunteer at the group for younger children so that we can see each other more!" Emily added. 
Ruby tells us: "It's helped me to develop friendships with different age groups and it's helped me develop as a person. We can leave our problems at the door and just have fun." 
"It's good to meet people who know what you're going through. Even if they're not going through exactly the same situation, they can still relate in a different way to most people my age," says Emily. 
Ruby said: "When we volunteer, we help the younger children out with anything they need, that could be helping them with activities, helping them tie their shoelaces and carrying bags – we're their personal coat hangers!"
Donate today
With your donations, we're able to give ongoing emotional and practical support to siblings of children with life-shortening conditions at no cost. To donate, call us on 02920 5532 255 or click here. Thank you.