Swansea-based busker, Steve Bagnulo, has been taking his talent to the streets to raise money for Tŷ Hafan – and his energy is infectious!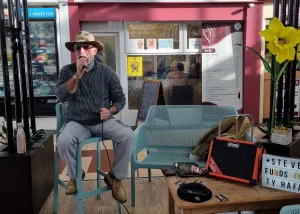 You can find videos of Steve performing on his Instagram account, but today, he would like to share his experience of fundraising, as well as why he was inspired to busk for Tŷ Hafan.
"When deciding what charity to support, it was an easy decision to choose Tŷ Hafan. Before the pandemic, I fundraised for Tŷ Hafan with a band I was in, and I feel they are the best local children's charity and the support they provide local families is truly the best.
"I started busking because I love music and singing. Beautiful story songs have always been a big part of my life and the healing therapy within all the frequencies and vibrations I have found invaluable for my mental health and wellbeing. 
"Since starting my fundraising in January, I have raised £6,409.50 for Tŷ Hafan. I hope over the course of the year that I'll be able to reach my goal of £10,000. After meeting with Shelley, my local Community Fundraising Manager, I was even more inspired to reach my goal. Shelley told me of the difference I'd be making to local families, and the amount of families Tŷ Hafan had supported – over a 140 families in Swansea. I'm proud to be playing my music to support such special families.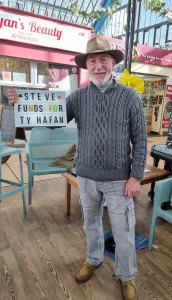 "I'm currently busking four to five times a week in Llanelli and Swansea, I normally sing about 20-30 songs which usually raises between £40 to £80 each outing. I'd also like to give my heartfelt thanks to everyone who has supported me so far with my fundraising.
"Through my fundraising, I've also made some great new friends. Colin is a great gentleman that offered to get me coffees in my first outings as a singer with my battery CoolMusic Amp️.
"He is often the donor of notes and regularly arrives on his mobility scooter with a drink in hand for me. We've even been known to have a lunch or two together!
"I am genuinely appreciative of all the support I've had so far, I hope the readers of this blog will find the time to say hello if you see me out busking, I'd love to meet you."
Thank you, Steve! You're a superstar!