Armed with a wet suit, a bike and a pair of trainers, Patrick will be heading to Tenby to take on Ironman Wales, a long-distance triathlon that puts athletes through their paces with a 2.4-mile sea swim followed by a 112-mile bike ride and a marathon-distance run.
Patrick is doing Ironman Wales to raise money for us in memory of his son, Zach, and mum, Lynne. Zach died at Tŷ Hafan in 2020 when he was 14 months old.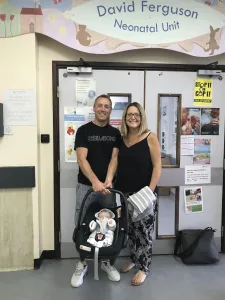 "In May 2019, after a straightforward pregnancy, our beautiful son Zach was born in Nevill Hall, Abergavenny," writes Patrick. "Without warning, he was transferred straight to the Neonatal Intensive Care Unit at The Royal Gwent Hospital in Newport.
"It was here that we learnt that Zach had suffered a catastrophic brain bleed earlier in the pregnancy and was diagnosed with Congenital Nephrotic Syndrome.
"Throughout his stay on the unit, Zach fought every hour of every day, and we lost count of the times he defied the odds and continued to fight against the consultant's prognosis. He was clearly determined to come home with us, and we finally achieved this after 10 long and difficult weeks."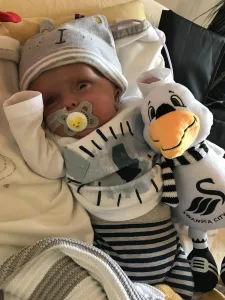 Although Zach was home, Patrick and Ali, Zach's mum, knew that life was going to be challenging and they needed extra support. So, they were introduced to Emma from Tŷ Hafan.
"Initially we were extremely hesitant as we thought of a hospice as just somewhere you go to die," remembers Patrick. "After some very difficult conversations, we realised we needed all the support we could get to help ensure Zach lived his best life, however short that may be."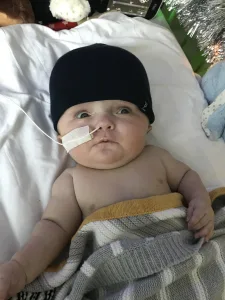 "We learnt that Tŷ Hafan isn't just a hospice for sick children and palliative care, but a place for respite and support for the whole family where you can escape from the hospital environment."
"Sadly, on Sunday 12th July 2020, our little hero passed away. We were together, just the three of us in a perfect room overlooking the sea. Holding Zach in our arms and saying goodbye was the hardest thing we will ever do, and we'll continue to re-live that day for the rest of our lives. We are so proud of him, he was our beautiful little boy who went through so much in his short life."
"We only wish we all had half his spirit. If things get tough, then Zach and children like him should be our inspiration."
While this isn't Patrick's first Ironman distance, it's been eight years since he competed in his only other Tenby race. He tells us: "I've always enjoyed competing in triathlons since my brothers introduced me to them in our younger years! Ironman is considerably longer than the usual triathlon distances and I really needed a challenge and focus, so started to put in the extra training five months ago.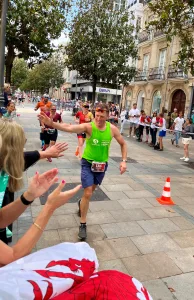 "I do a fair amount of fitness anyway as I find exercise, particularly cycling and surfing, is great for your mental health and de-stressing. Escaping on the bike or into the waves allows me time to clear the mind. Training for an Ironman does mean stepping that up a number of levels with more focused training and joining Newport and East Wales (NEWT) triathlon club earlier this year certainly helped with this and more structured training."
While the Ironman is undeniably meant to be tough, Patrick isn't shy of the challenge. "I am looking forward to it, I needed something to put my mind to. It's a mental and physical test, but this time my motivation to complete the course is different and I will be taking strength from my memories of Zach and Mum. My challenge is to get around the course, others have far more serious challenges to face."
"Exercise or being active is a way out, whatever it may be, of helping improve your mental health and I'd encourage anyone to give it a go."
"Remembering the way in which both Zach and Mum fought every day to overcome their health issues will provide me with all the strength I need to complete the challenge and become an Ironman!"
Good luck, Patrick – let us know how you get on in Tenby! And thank you for sharing your story with us.
To read the full story Patrick shared on his JustGiving page and to donate, click here.