Alfi was born with Neonatal Marfan syndrome, a rare condition that meant his life would be a short one.
"On 1st May 2013, Alfi Jay and Besi Jane entered into the world," says Sara.
"Our life became perfect in those few seconds and the years of gruelling IUI and IVF treatments for our precious miracles were all worth it.
"But the happiness didn't last long. Within an hour of our beloved babies' arrival, Alfi became very poorly and was rushed to the baby unit. The next few months became a blur. We knew Alfi's prognosis wasn't good. Life with the twins was precious and we tried to make as many memories as we could."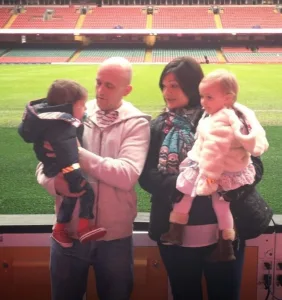 Tŷ Hafan was recommended to Sara and Jason when Alfi and Besi were 9 months old. They visited our hospice for their first and only short break stay just before Christmas in 2014, where they were able to relax a little as a family knowing that Alfi's medical needs would be cared for.
"At Tŷ Hafan, me and Jason had the opportunity to spend quality time with the twins," Sara remembers.
"For the first time, we didn't need to set our alarms, worry about medication or worry about forgetting to pack all of Alfi's medical equipment. The responsibility was taken away.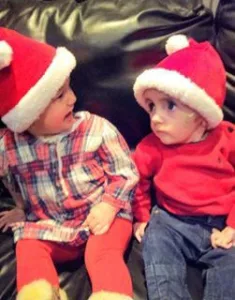 "That weekend will stay with us forever. We played in the park, swam in the hydrotherapy pool, visited Santa and ate Christmas dinner as a family. Alfi even ventured off on his own with his one-to-one nurse to see Anna, Elsa, Olaf and Santa. From that moment on, Tŷ Hafan became a huge part of our lives."
Alfi died peacefully in his dad's arms on 1st March 2015, St. David's Day and, poignantly, Sarah and Jason's wedding anniversary.
"Since his passing, Tŷ Hafan has been a huge support to us. We continue to have support from our Family Support Worker and we know that Tŷ Hafan is there for us whenever and however we need them," says Sara.
"We visit Tŷ Hafan on a regular basis. I can't begin to describe what Tŷ Hafan means to us as a family, but one thing I do know is I will be eternally grateful for the memories they have allowed us to make and continue to make to this day."
Support for the whole family. Always.
We provide practical and emotional support through end-of-life care and beyond, for as long as a family needs us.
Sibling support
Siblings can access one-to-one support or Play Therapy, if needed, to help them cope with the grief and trauma of losing their brother or sister. They can also join our Supersibs groups to connect with other children who can relate to their experiences.
Support for parents
We offer one-to-one and group support, including support groups for both mums and dads, at the hospice and in the community.
Practical support
We take on some of the practicalities so that families can focus on being together during the most difficult of times, including end-of-life care planning, registering the death of the child and funeral planning.
Complementary Therapy
Our Complementary Therapy team provides massage, aromatherapy, reflexology and more to promote relaxation, pain relief and simply the knowledge that someone cares.
Your donations change lives
A donation to Tŷ Hafan helps a family during some of the darkest times imaginable. To donate today, click here.