International Nurses Day is an international day observed around the world on 12 May each year, to mark the contributions that nurses make to society.
Tŷ Hafan's 80-strong care team includes specialist palliative care nurses, healthcare support assistants, complementary therapists, play therapists, music therapists and family support practitioners amongst others.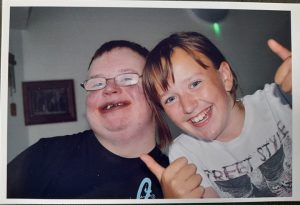 Together they are currently providing care and support for 274 children with life-limiting conditions and their families in our hospice in Sully as well as in homes and communities across Wales.
Specialist palliative care nurse Meg Fears, 23, is one of the latest recruits to the team. But she is no stranger to Tŷ Hafan as she has been coming to the hospice, and involved with our Super Sibs Group, since she was eight years old, when her older brother Greg, then aged 15, began to receive respite care at our hospice in Sully.
Here Meg explains not only why she chose to become a nurse, but why she chose to work for Tŷ Hafan children's hospice.
"I joined the care team at Tŷ Hafan four weeks ago as a paediatric palliative care nurse," says Meg, "but I have been coming to Tŷ Hafan since I was eight.
"My brother Greg has Downs Syndrome as well as pulmonary hypertension and cardiac disease. He started to come to Tŷ Hafan when he was 15, and my other brother Tom and I also became involved then too.
"I loved it right from the start. There's always been such a lovely team here and when I was younger I would 'help' the nurses to do lock-up – in those days they'd go around the hospice at a particular time in the evening and check that all the windows and doors were shut.
"Basically I would copy whatever the nurses were doing. Another example of this is my Mum has a little sheet of paper on which I had 'kept my records' for 'one of my patients' which she has kept to this day.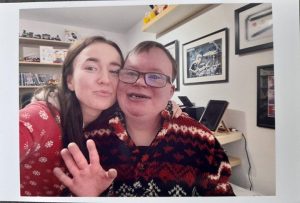 "Along with my parents and my other brother Tom, I have done a lot of caring for Greg. So it felt like a natural choice for me to go on and study paediatric nursing at Swansea University. I then worked at Noah's Ark Children's Hospital for a while, which was amazing.
"But I decided to come into palliative care nursing at Tŷ Hafan because I think it's just so special. It's so much more than what people may think.
"Greg has traits of autism so it's really important that he has, wherever possible, the same people looking after him. And he gets that here at Tŷ Hafan. The atmosphere here is always so lovely. For example, the staff and the families have lunch together with the children – there is no 'them and us' at all.
"I guess I have seen caring from both sides. I've seen how Mum and Dad go through things – and I think that this helps me to empathise with the parents of the children who come to Tŷ Hafan. Through my own personal experience I understand what families go through.
"It's not about sugar-coating things, but instead, it is about saying to someone who is going through a particularly hard time: 'Oh yeah, that is rubbish.'
"It's also about trying different means of communication. For example, Greg doesn't speak words at all, but having spent so much time with him, I kind of know what he is saying.
"Tŷ Hafan is such a fun place. It's a privilege to work here and work with those families. Every day is different and we have a lot of fun with the children. Of course, some days are hard days, but every day is all about making those memories.
"Quite often a child will come here and they don't want their mum and dad to stay with them. They love to have that bit of independence.
"In my previous role at Noah's Ark, I'd hear the lovely feedback from families about Tŷ Hafan, and how they feel it has such a lovely atmosphere.
"As a nurse, I first came here as a student. I remember I'd not been at Tŷ Hafan for very long and a child came in for end-of-life care. In the event that didn't happen and the stay, happily, turned into a respite stay. But whatever, it was all about making the child comfortable and making the child happy.
"Yes, it is difficult to cope with loss. I've not had to do that yet at Tŷ Hafan but already I can see how supportive the team is. Everyone away from work has means or coping with things. For me it's running – that's how I process things.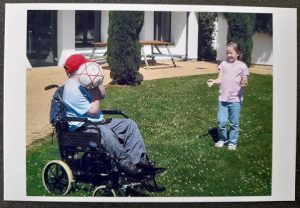 "Even when Greg left Tŷ Hafan because he had outgrown the support it offers, I still had lot of support through the Tŷ Hafan  Super Sibs group. This is a very supportive environment. We'd do different activities and this was brilliant because it gave me time to mix with other siblings of children with life-limiting conditions. We'd go on little trips, we did white water rafting in Cardiff Bay and there is the Tŷ Hafan Scout Group, as well as opportunities to stay away.
"Without having to say anything, you just know. I had friends at school and they were great but because they didn't have to go through the same things as those that me and my family were going through, then they could not have had the same level of understanding of what it was like for me.
"Now, 15 years after I first came here as a child, I am a nurse working at Tŷ Hafan. It's nice but it still feels a bit surreal. I wake up and then I think 'Oh yeah, I'm going to work at Tŷ Hafan!' It's just so amazing!"