In 2017 I did my first 'challenge' if you like. I had just had my first daughter Jessica, I was overweight and hadn't really done much exercise since injury stopped me playing rugby.  James arranged a big group of colleagues at Swansea University Admissions to take on the Welsh 3 Peaks and I raised money for Tŷ Hafan. Looking back at the photos now I was pretty big but it felt great to be active again and raising money at the same time gave me a real sense of achievement.
Skip forward to 2018 I decided to start running, I had already been weary running after a nasty knee injury when I was 19, but I found out quickly that I would be OK and I became obsessed. The sense of freedom is amazing.  I ran 574 miles that first year.  Then during 2019 I took on a running event every month of the year and raised over £1,000 for 2 Make A Wish following a close friend suddenly losing a child.  Half way through these events daughter number two Lucy arrived  because I wasn't already tired enough!
Then the pandemic hit, all events stopped, I felt a bit lost after being so busy in 2019.  So when restrictions started being lifted in the summer of 2021 James and I started to look at what we could do to raise some more money.  We knew charities had struggled and wanted to help.  I decided Tŷ Hafan was going to be the charity of choice again, my partner Nicola has been a nurse at the hospice for almost seven years and I get to hear about the amazing work that happens there after every shift.  I am so proud of the work her and her colleagues do daily and I wanted to help.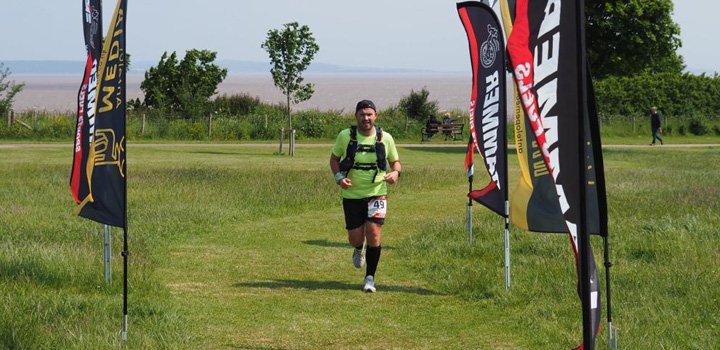 James and I knew our challenge needed to be big to grab people's attention and compel them to donate.  It needed to be epic.  We then found the VOGUM!  Run by Pegasus Ultra Running, it is a 40-mile ultra-marathon where the course travels directly past the hospice. It was perfect!
Now that I had an event booked we had to start thinking about training.  We had a year to go so we couldn't start straight away and risk burn out.  The longest  I had ever run was a half marathon and I had an event booked for November 2021.  I had a plan in my head, train normally for this half marathon as I had many times before, take a few weeks off just weight train to allow my body to recover and start training properly for the ultra-marathon in January.  I finished Marlow half marathon November 7th, I weighed and I was 92kg, light for me but probably way too heavy for ultra-endurance given I'm 5ft 9 and ¾ if you count my quiff!
Then January 2022 the hard work came. I had messed up and made it 10 times harder by gaining weight. I started my training plan and it was tough, high weekly milage came quickly.  I've run over 600 miles in the first 4 and a half months of 2022. To try and lose some of the unexpected (but deserved) weight gain, I decided I was to take on an even bigger challenge than the ultra, I would give up alcohol until after the race.  Something even harder than running 40 miles.  My calendar was marked, June 4th – VOGUM (and beers!)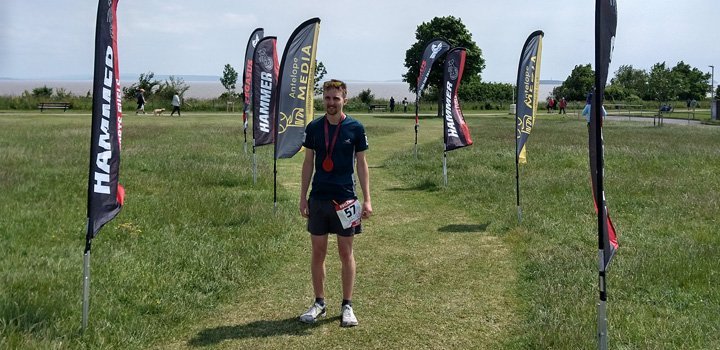 One interesting thing no one told us about an ultra-marathon is it's basically an eating competition with some running thrown in. We have had to try various nutrition strategies with a mixture of results.  If you check our Strava maps, see how many random diversions to public conveniences/supermarkets/bushes for 'emergencies' you can spot.  We quickly realised all kinds of possibilities need to be factored into our route planning!
I want to thank everyone who has sponsored us so far. We are so grateful.  Also, all of my family for helping me especially over the weekends where Nicola was working, looking after the kids and helping to allow me to train. Big shout out to my mother Theresa and the mothers-in-law Michelle and Debbie.  But the biggest person I'd like to thank is Nicola, without her looking after the kids while I train for this event it wouldn't be possible.  She is always supportive, allowing me time to work for this, and often dropping me off at random services 20 miles from home after family days out.  She works hard full time at the hospice and is the best mammy to Jessica and Lucy and we'd all be lost without her.
I know James will want to shout out his partner Laura too, especially when he tells her he's off for a quick run and then rings her hours later asking to be picked up in Llandeilo!
I'd encourage anyone to take on a challenge for Tŷ Hafan, there are lots of out of the box challenges on the Tŷ Hafan site which are great, but, if I were you, I'd try and pick something random to do.  It's always fun explaining to people you're going to race from Porthcawl to Penarth along the Wales Coastal path, the responses are usually hilarious.