What inspired you to do the Three Peaks Challenge for Tŷ Hafan
Savita: Tŷ Hafan is very important to us as a family, I lost my nephew back in 2004 when he was just four years old. He was in and out of hospitals from the age of one, undergoing major surgeries, which meant that he needed round the clock care.
My brother and sister-in-law, were supported by the great team at Tŷ Hafan. Every time my nephew went, his face would just light up. That smile, was just beyond this world and something that I'll never forget! The whole family were looked after so well, and you could see what a difference it made to them all. The memories they got to create together, are forever in their hearts and that's all thanks to Tŷ Hafan. This was my inspiration for the challenge and something that cheered me on every step of the way.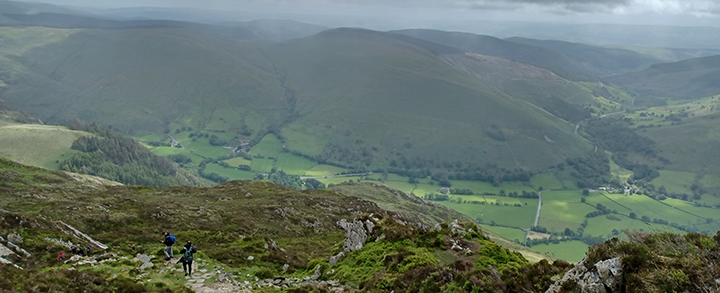 What was your favourite part of the adventure?
Savannah: It's so hard to choose, as the whole experience was incredible! Apart from the breath-taking views, I must say the best part for me was arriving safely at the bottom of Pen-Y-Fan to be greeted by everyone cheering us on. It was a rollercoaster of emotions, we laughed, we cried and at one point each of us said, "I can't do this" but we had to remind ourselves why we were doing it. Taking those last few steps down Pen-y-Fan we all had such an overwhelming sense of pride and achievement knowing that all our hard work and fundraising efforts had finally paid off.
How did you work as a team to reach your goal?
Grace: As we all work in different regions, in the run up to the challenge we made sure to keep in regular contact, which really helped to bond our team! This team spirit also helped us to spread awareness of the event and why we were doing it, which helped us to raise more money for Tŷ Hafan.
We had a few hurdles to overcome prior to the event, with new team members having to be found, and a period of time where I didn't think I would be well enough to take part. Thankfully, I was able to take part and we all joined together to put our best feet forward for the big day!
The weather conditions on the day added to the experience, with 65pmh winds adding to the already difficult task ahead of us but we pushed on as a team, lifting each other up all the way. Needless to say, there was some complaining and some crying but also plenty of laughter to get us through. We shared stories, checked in on one another and took the challenge as an opportunity to get to know each other more, creating a bond from an unforgettable and rewarding experience. Each individual brought something unique and invaluable to the team and our successful achievement that we are incredibly proud of.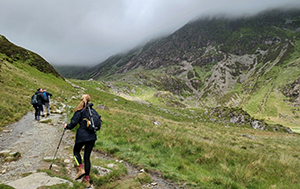 What training did you do?
Dylan's Dragons: Training for the event consisted of walks of varying distances, ensuring we included a lot of uphill elements to the walks and gradually increasing the distance. With the late compilation of the final team and only a few weeks training undertaken, this made the completion of the Welsh 3 Peaks even more of an accomplishment to be very proud of!
Which of the three peaks was your favourite?
Christian: Although I wasn't one of the walkers, for me the favourite of the three peaks was Cadair Idris because of the overwhelming emotions showed by the team when they reached the finish point here. It's renowned for being the most challenging and it pushed our team to their limits. As we clapped them to the finish point of this peak the raw emotion was clear to see with tears flowing, and hugs all around! I was so proud of them at that moment.
Congratulations to Christian Baldwin, Savita Rupalia, Grace Brouwer, Savannah Todd and Shane Cox for completing the Welsh 3 Peaks challenge 2022.