It was exciting to go to last week's Welsh Youth Parliament meeting as I got to socialise and meet people in the flesh for once, rather than just over Zoom. One of them I know pretty well already, my friend and school pal Dan Downton, who is member for the National Deaf Children's Society Cymru.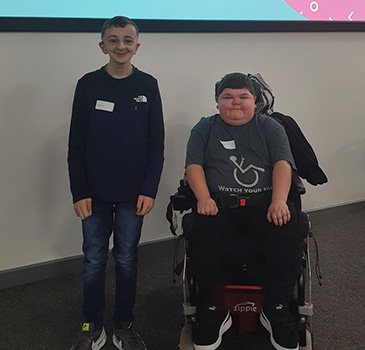 We talked a lot about our different constituencies and also talked about gender equality and diversity, which are both really important to me.
I'm doing more stuff now with Welsh Youth Parliament and it's nice to be involved and feel like I have a voice for all children and especially those supported by children's hospices in Wales.
I'm hoping I can make a difference and help to build a better place for all children to grow up, not just those who are disabled like me.
I especially loved the Bombay Aloo wrap I had for lunchtime!
I'm really looking forward to actually going to the Senedd soon, as it's such an important place and I've never been inside it before.
Being a member of the Welsh Youth Parliament really makes me feel like I'm doing something positive and I'm so proud to be supporting Tŷ Hafan.
My school, St Cyres, has been really good at letting me have time off and special arrangements to do Welsh Youth Parliament stuff – I think they might be very proud of me too.
We say thank you for what you are doing for us, Seth, and we are all very proud of you.