The weekend was a huge success in more ways than one for the Tŷ Hafan All Stars, as they took part in the annual ice hockey charity tournament at the Ice Arena in Cardiff on Saturday and Sunday.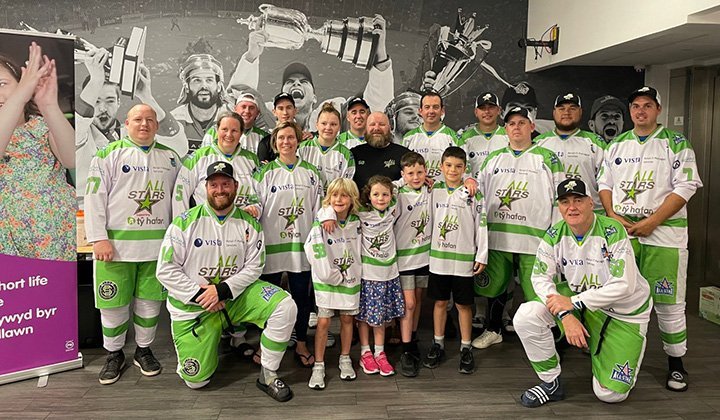 They took on seven other charity teams in a fast and furious weekend of ice hockey, which was much enjoyed after a break of two years during the pandemic.
The team came second overall in the competition, only losing 1-0 to MIND in the final on Sunday.
They have raised an amazing £11,000 so far this year, in sponsorship for Tŷ Hafan – and have now raised more than £60,000 for us since they began taking part in the tournament back in 2016.
This year they were again captained by Tŷ Hafan trustee, James Pepper – and lots of staff, volunteers and Tŷ Hafan families went along to enjoy the games and support the 18-strong team, who were of all abilities.
Several of the children enjoyed meeting members of the team, including Fenton.
The All Stars were also cheered on by Chris and Clare, parents of Scarlett Thomas who was cared for by Tŷ Hafan before she died in 2018, when she was four years old.
Scarlett was the team's very special mascot, attending the tournaments with her family – and the TeamScarlett motif is still prominent on all the team's ice hockey shirts.
Congratulations to the All Stars on their success this year –  and many thanks for some truly incredible fundraising!
If you would still like to sponsor the team, then the link to one of the justgiving pages is here: