My name is Emily Harmsworth and this summer I am making tie-dye t-shirts for children, women, and men in order to fundraise for Tŷ Hafan in memory of my cheeky brother. Peter suddenly passed away in December 2019 at the hospice and since then I have been joining in Tŷ Hafan's sponsored steps and walks on the run-up to Peters birthday in September. This year I want to go a little further and hopefully raise more than last year.
Peter is my inspiration for all my fundraising and sponsors, but this project really reminds me of him and the messy memories we made together. We often used to make funky bright tops or even blankets for Peter as he was visually impaired. Mum always said we were double trouble especially when it comes to messy play and the Tŷ Hafan play therapists used to love it when me and Peter were there because Mum was happy enough for us to get as messy as ever. I miss that a lot! So I have swapped my walking shoes for fabric dyes this year.
It feels good to be part of Tŷ Hafan where I can help make a difference and to be able to give back a little towards helping other families like mine. We were very lucky to have Tŷ Hafan's support throughout Peter's life and still have them there for me now. I'm hoping to raise awareness of Tŷ Hafan and what they do for children with life-limiting conditions like my brother. While selling my tie-dye t-shirts, 100% of the profit will go to Tŷ Hafan.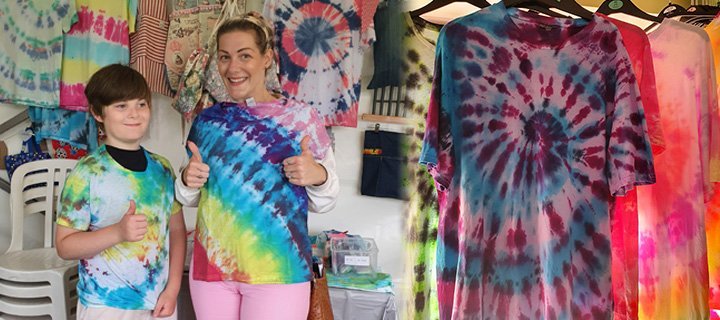 People can support me by joining and sharing my handcrafted Facebook page called "E & P double trouble" (my own brand name) Handcrafted for Tŷ Hafan. Mum is taking my orders via Facebook Messenger; she is the admin of the group so any questions she can answer.
Please, please join, share and order for this wonderful charity, I hope to continue right through the holidays and maybe even longer.
Thank you
Emily Harmsworth, age 13