Tŷ Hafan is so much more than a hospice and a place for respite. They have been a shining light to our family supporting us through some tragic and challenging events. During our stays at Tŷ Hafan, my daughter Jennesha has been pampered more than a princess while I have been able to recharge my batteries with some much needed 'me time'.
"It has been and always will be our happy place. We have created so many memories there: meeting Leigh Halfpenny and Oscar the baby meerkat, the day a big yellow boa constrictor wrapped itself around Jennesha's wheelchair and magical moments including celebrating Jennesha's 13th birthday, the day she ignored Santa on national television and the special Christmas Eve we spent ice skating followed by VIP treatment in the Santa's grotto down the Bay.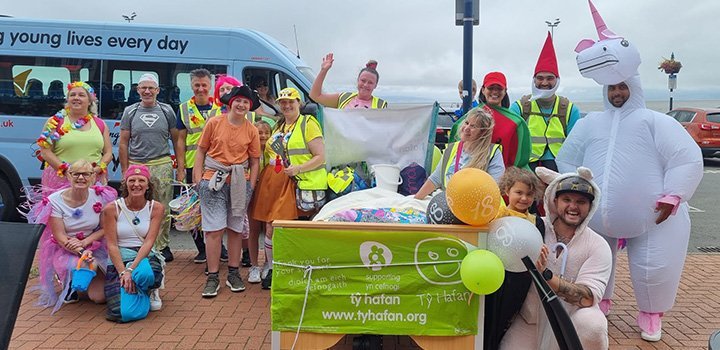 "I came up with the random crazy idea for the bed push as a memorable fun way of celebrating Jennesha's milestone 18th birthday while raising funds for Tŷ Hafan.
"Jennesha has a degenerative condition called Rett Syndrome and wasn't expected to see her teens. She is confined to a wheelchair and doesn't like spending too much time in it so a bed push would mean she could take part in the event.
"Being a teenager, she loves her bed so it made perfect sense. Profiling beds are expensive to purchase and we were very fortunate that a lovely lady living locally had one to donate. With a bit of TLC to make it safe and roadworthy it was time to find a team.
"Team Neshy was made up of Jennesha's four siblings, her cousin, family friends, carers, school staff and even her nieces and nephews. The initial team of 12 turned into 22 – basically a mobile party to celebrate her special day.
"My best friend transported the bed in her van and we put it together on the promenade at Barry – much to the amusement of all the onlookers! You don't often see a profiling bed on Barry Island every day. I used a portable hoist to transfer Jennesha on to the bed and decorated it with balloons and banners.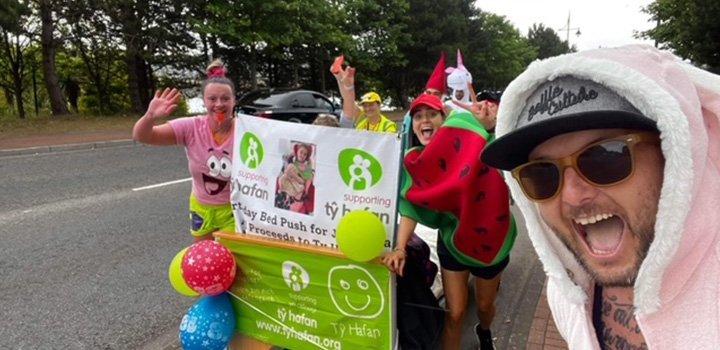 "We started our bed push at Barry Island with a message of encouragement from Gavin & Stacey's Nessa (Tŷ Hafan's very own Kelly-Jo) who wanted to know what was occurring on The Island?
"Pushing the bed along the main road to Tŷ Hafan in fancy dress caused quite a stir. We were cheered on by passing motorists and pedestrians in a carnival atmosphere. Our MC Bunny provided live updates via Facebook, while our mascot Unicorn posed for photos with excited children. We blew our whistles, laughed and sang while cars sounded their horns. Despite all the noise and being pushed along a bumpy road Jennsha slept in the bed like sleeping beauty. She only woke up when one of the Tŷ Hafan staff asked if she was going to have some food at the party! The staff had arranged a welcoming committee at Tŷ Hafan with some much needed refreshments.
"We ran up the incline into Tŷ Hafan to the song 'Running up that Hill' and it was quite an emotional moment. Not only did it signify the physical end of the bed push, but it represented the support our family and other families receive from Tŷ Hafan as "We'll be running up that road, running up that hill with no problems."
"The bed push was far more successful than I ever imagined. We raised over £1,800 for Tŷ Hafan from online/offline sponsorship and the lovely people of Barry who placed donations of £246.45 in our bucket during the bed push.
"The event also created an extra special memory, not just for Jennesha, but for all involved. The sense of achievement when you cross the finish line is an amazing feeling!
"We would like to send special thanks to the awesome Team Neshy and the bed push logistics team, family, friends, all the people who made donations and of course the dedicated staff of Tŷ Hafan. We couldn't have done it without you all. You're all amazing!"
We say: "We think you are amazing too and a huge thank you to everyone who supported Carrieann and Team Neshy's Bed Push for Tŷ Hafan."
If you'd like to support Carrieann, Jennesha and their family and friends with their fundraising, you can donate here: https://www.justgiving.com/fundraising/carrieann-davies3