Today was a very festive day at the hospice… Not only did we host a Christmas pantomime for families, but Santa Claus himself came to visit in a Wales Air Ambulance helicopter!
This year's Encanto-themed panto was produced and performed by some of our brilliant colleagues and special guests. The story followed the elves who have been working hard to get everything ready for Christmas, and this is the story. . .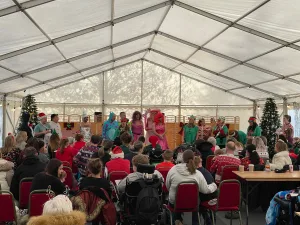 The mischievous elf, Bruno, keeps throwing a spanner into the elves' busy works by causing clumsy chaos. Poor Bruno was banished!  
Our lead character, Jingle Bell, (played by our very own Lynne, our much-loved Play and Therapies Lead at Tŷ Hafan), is distressed to find out that the Christmas lights are no longer working! With no functioning Christmas lights, how could Christmas go on this year?! 
(With audience participation, songs, dances and the appearance of family favourite characters like Sully from Monsters Inc., Buzz Lightyear and Barbie), the scary Head Elf catches Jingle Bell trying to fix the Christmas lights. 
The Head Elf shouts at Jingle Bell, blaming her for the crumbling Christmas and tells her she's just a bad as Bruno! (Hilarity ensues when the mention of his name summons Bruno for a classic, 'He's behind you!' moment). 
Much to the dismay of the other elves, Jingle Bell loses her temper with the Head Elf, saying that elves need to be appreciated! As Christmas magic returns to Jingle Bell, the lights come back on which means Christmas isn't cancelled! 
Shaken, the Head Elf says that all he has been focusing on is Christmas going smoothly and forgetting that the elves were a family and all special in their own way. 
"The magic comes from within us, it comes from you and me!" 
And, of course, Bruno is summoned again at the end, with everyone living happily ever after. 
But that's not all. With Christmas now restored, thanks to the help of Jingle Bell and the elves, we had a very special visitor.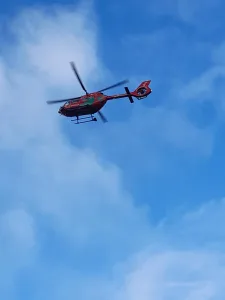 A few moments after the pantomime curtain came down, Santa Claus arrived at Tŷ Hafan by helicopter to meet the children and give out presents! Wow!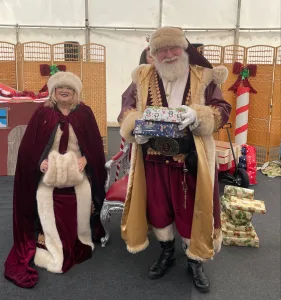 Well done and thank you to EVERYONE involved in making today a truly magical day at Tŷ Hafan. Ho! Ho! Ho!