Our team of volunteer gardeners work hard to make sure our gardens are lovely for the children and families who visit us to enjoy. They're simply amazing! 
To celebrate their tireless work, we'd like to share some snippets from their diary, written by Monica, back in December. Here's a peek at what they've been working on, what's coming soon and a roundup of 2022… 
December 2022
This month we have experienced the first frosts of the winter with temperatures dipping to 6 degrees in some places, but this hasn't deterred the gardeners. As well as snapping some amazing photos there has been a flurry of activity – which of course, keeps us warm and glowing!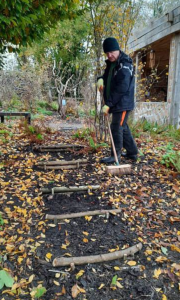 Brian and Terry have created some brilliant new steps from the turning circle through to the sensory garden and Joe's team have trimmed the willow archways. They have replaced the garden ties with twine and advised us on how to maintain it in the long term.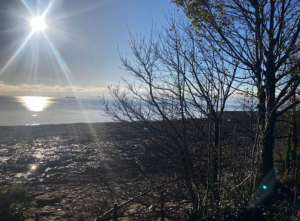 The mulch has been distributed around the garden and has been used to create a new path in front of HQ. Some of the compost has been distributed around the garden too, and other compost that needs to mature has been transferred to the newly built compost bins. 
A new rockery has been built alongside the steps at the front of HQ and the tree trunks from the recently felled conifers are to be used to make bug hotels in a second dead hedge.  
And, to round off the jobs before taking a break for Christmas, Tracy and Monica painted the recycled pallet planter that Tim Savage made, and Terry finished clearing the wood side boundary that runs alongside the fencing by the sensory gardens.  
Five new pairs of secateurs have been purchased, as well as three new kneeling mats, trugs and a toolkit. Terry has repaired the tyre on the big wheelbarrow, and we are planning to buy another large wheelbarrow and a small one with a solid wheel.  
We had a visit from Rhys of Forest Park and Garden this month after Terry contacted them about robotic lawn mowers. And there has been a delivery of the roof for the shed – another step closer to our new Gardeners' HQ!  
Fundraising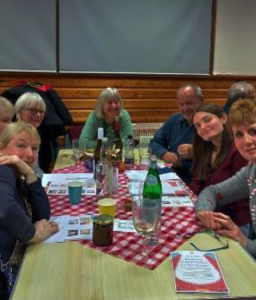 The gardeners' quiz night was a great success. The losing team won a trowel bottle opener and the winners took home a cash prize. There was a surplus of £300 after expenses, which was made up from raffle money, donations, the sale of produce and a small surplus from ticket sales.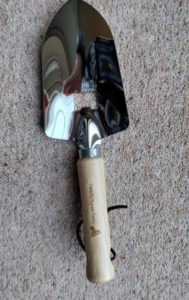 A brilliant quiz was delivered by Terry, an amazing raffle organised by Roz and, as usual, wonderful support to organise the venue from the other gardeners and our lovely resident artist, Carol.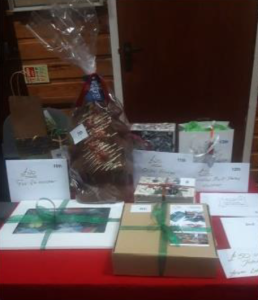 Feedback 
"We so enjoyed last night's quiz and couldn't believe we had won, especially as one of the team had never been to a quiz before and another hadn't been to a quiz for over 20 years. Thank you to all concerned. A fun, well organised evening, with delicious supper. We look forward to the next one!" 
"Brilliant night, fantastic quiz and food, thanks for organising." 
£65 was raised from the sale of preserves and recipe books at the Christmas Cutting Edge Textile Group meeting on Tuesday 13th November. We continue to raise money from preserves and book sales at the hospice and HQ receptions.  
Other events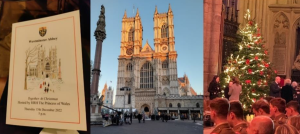 On 15th December, Monica and Tŷ Hafan Ambassador, Lyn Hull, were invited to represent Tŷ Hafan at a carol concert at Westminster Abbey that was organised by the Princess of Wales.
How fortunate were we to have the pleasure and the privilege to enjoy such a wonderful day on behalf of the charity. And of course, from my perspective, I was also representing our amazing team of volunteer gardeners who work tirelessly to maintain the gardens for the pleasure and enjoyment of all who use them. 
On 16th December, the garden volunteers enjoyed lunch at Tŷ Hafan HQ. A huge thank you to Laura and her colleagues. It was delicious, a wonderful gesture and very much appreciated by us all. 
Miscellaneous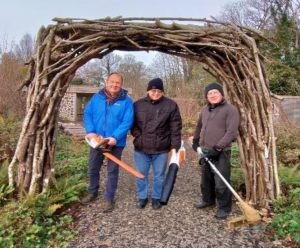 Ian, Health & Safety Officer from Bakelite, visited the gardens for a photo with some of the gardeners, which is to be used for an article in the company's newsletter to convey our thanks for the equipment that was funded.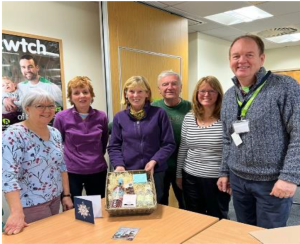 The gardeners were thrilled to receive a Christmas Hamper from the Welsh Education Partnership.  
Springwatch presenter, Lolo Williams, donated bird boxes with cameras earlier this year.  
Future plans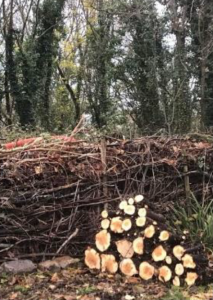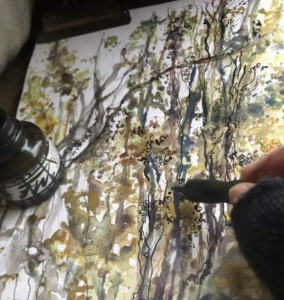 There are plans to build another dead hedge and to lay more of the hedge on the coastal boundary.
Carol has booked Waterloo Tea Rooms, Roath, for an exhibition of her paintings of the Tŷ Hafan gardens. It will take place during the last two weeks of may and the first two weeks of June in 2023.
The Tŷ Hafan gardeners' plant sale is booked to take place on Saturday 10th June 2023 at the Lesser Hall, All Saints Church, Penarth.
A roundup of 2022
Although we thought it would be quiet in the winter months, we were kept busy working on some brilliant projects – of note; hedge laying, dead hedges and bug hotels! Whilst cold at times, there were few days when the weather beat us. 
Spring was a delight as we enjoyed the fruits of our bulb planting. The daffodils warmed the heart as they swayed in the breeze followed by a wonderful display of tulips. They welcomed families, staff and visitors as they entered the drive.
The gardens were a riot of colour during the summer months, though struggling to survive at times with the intense heat that we experienced. The purchase of more hosepipes and sprinklers helped and, come the autumn, we welcomed the rain to provide nourishment. The deluge that we experienced at times though was a little over the top!  
Whilst the gardeners contributed an amazing number of hours and unbounding love on the gardens, we were extremely well supported by some generous supporters. We cannot thank them enough. What has been achieved would not have been possible without their amazing generosity and support.  
Our effort was acknowledged in September when we received an award from RHS Wales in Bloom. A great achievement which we obviously feel was well deserved.  
It has been a pleasure and a privilege to write this diary on behalf of the volunteer gardeners. They are an amazing bunch of people, passionate and enthusiastic about keeping the gardens looking their best for all who use them.  
No doubt 2023 will be more of the same. There are plenty of ideas in the pipeline which we are confident will become a reality as the new year progresses. 
This is all fabulous! Thank you so much! 
Volunteering with Tŷ Hafan
We're always looking out for volunteers. To find out more about volunteering with us and to see our volunteering opportunities, click here.