Suzanne Goodall, the founder of Tŷ Hafan Children's Hospice, is among 43 inspirational women whose achievements have been honoured in a unique handcrafted quilt designed to celebrate International Women's Day on Wednesday, March 8. 
The hand-stitched quilt is the creation of members of the "Cutting Edge" textile group, based in South Wales, and sponsored by Cardiff Art Society.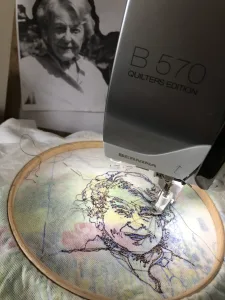 Monica Dennis, co-ordinator of Cutting Edge, said: "After a long pause in socialisation and creativity following the isolation of Covid lockdowns it was felt that a group project was needed to unleash the amazing talent of our members to produce a memorable piece of work. And what better way to do that than to make an iconic quilt.
"Our International Women's Day quilt is designed to capture the remarkable achievements of women who have made a significant contribution to Welsh society.
"Members were each invited to create their own 8″ block depicting a woman of their choice, past or present, who has inspired them."
The block depicting Tŷ Hafan's Suzanne Goodall was made by artist Carol Bartlett of Penarth.
"I was inspired to embroider my square with an image of Suzanne Goodall amongst the gardens at Tŷ Hafan because I think it will help to let people know about her and what she achieved," said Carol.
Carol, who also makes and sells beautiful greeting cards to fundraise for Tŷ Hafan, illustrated with prints of her paintings of the hospice gardens, added: "Some people think Tŷ Hafan is a government funded project but it's not. It is a wholly independent charity; it was Suzanne's own creation and without her vision and hard work it would not exist".
"I hope that Suzanne being featured on this amazing quilt will help to bring Tŷ Hafan and her work to people's notice."
Maria Timon Samra, Chief Executive of Tŷ Hafan, said: "On this International Women's Day, I am so proud to see Tŷ Hafan's inspirational founder, Suzanne Goodall, featured in such excellent company alongside the other 42 influential Welsh women who are celebrated on this stunning and important piece of art.
"I am in awe of the skill and artistry of those members of Cutting Edge who have made this beautiful artefact, which should be prized by the whole of Wales. I am looking forward to it helping to raise awareness, not only of the work of our charity, but also of the impact Suzanne and so many other amazing women have had on Welsh society."
The quilt will be displayed in the window of the Tŷ Hafan charity shop in Cowbridge from 6 – 19 March, taking in International Women's Day. After that it will hang permanently in St John's House, Bridgend.
The 42 other Welsh women of note whose achievements are celebrated by the Cutting Edge International Women's Day 2023 quilt include: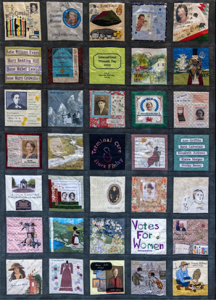 Lady Charlotte Guest – an English aristocrat who is best known as the first publisher in modern print format of the Mabinogion.
Laura Ashley – fashion designer and businesswoman.
Millicent Hughes McKenzie – the first female professor in Wales and suffragette.
Margaret Haig Thomas – Lady Rhondda – suffragette, businesswoman and equalitarian feminist.
Kathleen Thomas – the first person to swim the Bristol Channel.
Frances Hoggan – the first female doctor in Wales and the first British woman to receive a doctorate in medicine from any university in Europe.
Eleanor Vachell – the first female botanist in the Cardiff Naturalists Society.
Morfydd Llwyn Owen – Morfydd Llwyn Owen was a Welsh composer, pianist and mezzo-soprano
Gill Clay –  ambassador for over 75 years of guides and scouts – recently awarded the silver wolf (UKs highest scouting award) in recognition of her decades of tireless service
Lucy Thomas – a Welsh businesswoman and colliery owner known as the "mother of the Welsh steam coal trade".
Janet Elizabeth Jones – teacher and early education campaigner.
Tanni Grey Thompson – athlete, politician, TV presenter and disability campaigner.
Baroness Illora Finlay – Welsh doctor, professor of palliative medicine and a Crossbench member of the House of Lords.
Emmeline Lewis Lloyd – an early British alpine mountaineer.
Rhian Mannings – founder and Chief Executive of the charity 2Wish.
Esme Kirby – a conservationist who together with her husband Peter Kirby formed the Snowdonia National Park Society.
Katheryn of Berain – Mother of Wales – a Welsh noblewoman noted for her four marriages and her extensive network of descendants and relations.
Betty Campbell – community activitist and Wales's first black headteacher.
Mari Jones – at the age of fifteen, walked twenty-six miles barefoot across the countryside to buy a copy of the Welsh Bible.
Jemima Nicholas – a Welsh heroine during the 1797 Battle of Fishguard.
Kate Roberts – one of the foremost Welsh-language authors of the 20th century.
Gwen John – Welsh artist.
Dr Elen Rees MBE – Awarded an MBE for her services to the Welsh language and Adult education
Augusta Hall, Baroness Llanover – a Welsh heiress, best known as a patron of the Welsh arts.
Sue Kent – presenter with BBC Gardeners World and disability campaigner.
Cranogwen, Sarah Jane Rees – a Welsh teacher, poet, editor, master mariner and temperance campaigner.
Mary Gillham – a British naturalist, university lecturer, and writer.
Audrey Williams – a Welsh archaeologist and the first woman president of the Royal Institution of South Wales (RISW) and a Fellow of the Society of Antiquaries.
Gwendoline and Margaret Davies – art collectors who bequeathed 260 works to the National Museum of Wales in 1951 and 1963.
Mair Russell Jones – World War II codebreaker at Bletchley Park.
A unique publication which includes the stories of all 43 women featured will also be on show alongside the 35-block quilt.