Among some of the best dishes money can buy, a fundraising target of £1 million will be on the menu at the forthcoming 2023 Chefs' Night Out for Tŷ Hafan!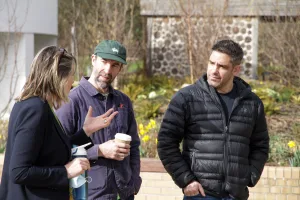 The evening of Saturday 25th March will see 14 top chefs from across Wales and the UK gather at Cornerstone on Charles Street, Cardiff, to cook some of their signature dishes for 140 members of South Wales' business community to raise vital funds for Tŷ Hafan.
Chefs' Night Out – now on its 7th dinner after a break of three years due to the pandemic – has been a regular fundraising event on the charity's calendar since it started in 2010, the brainchild of David Loosemore, Managing Director of Portabella, and Huw Edwards, Head of Auctions and Auctioneer at Seel & Co.
The chefs who will all be cooking four course meals with matched wines for this exclusive evening out are as follows:
Stephen Terry – The Hardwick, Abergavenny
Roger Jones – formerly The Harrow at Little Bedwyn, Marlborough
Richard Davies – Calcot Manor, Tetbury
David Kelman – Cowley Manor, Cheltenham
Hywel Jones – Lucknam Park, Chippenham
Hywel Griffith – Beach House, Oxwich
Fred Clapperton – Coast, Saundersfoot
Douglas Balish – The Grove, Narberth
Tom Hine – Penmaenuchaf, Dolgellau
Tom Simmons – Thomas, Pontcanna
Tom Waters – Gorse, Cardiff 
Grady Atkins – Chez Vous, Cardiff 
Owen Morgan – Asador 44, Cardiff
Carl Cleghorn – Thornbury Castle
David Loosemore said: "Since it started, I am very proud to say that Chefs' Night Out has raised more than £835,000 for Tŷ Hafan.  
"We are back now after three years away, and our ambition is for this event to raise in excess of £165,000, which will take our total raised to the £1m mark and beyond. 
"Tŷ Hafan cares for thousands of children and, just as importantly, supports the friends and family of those children so they can live their lives to the full, however long or short that precious life may be." 
Chefs Stephen Terry and Owen Morgan spent a morning at Tŷ Hafan last week to help with their preparation for the evening.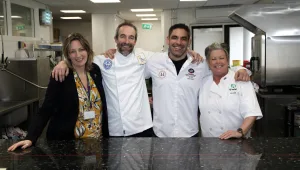 Stephen, Head Chef at The Hardwick, Abergavenny, has taken part in every Chefs' Night Out event since it started. "We're dads, Owen and me," he said. "Being a parent changes your life forever, for lots of reasons, but also makes you a lot more aware. 
"To be here at Tŷ Hafan today and having been here before is incredible. This is self-funded with almost no help from the government. It's insane, this incredibly precious care and help and respite for families and their children that Tŷ Hafan provides. It's such a privilege to be involved with it." 
Owen, Head Chef at Asador 44, will be cooking at Chefs' Night Out for the first time. He added: "Before today, I've never been in Tŷ Hafan but I've heard stories from family and friends who've had to use the facilities, so it's always been something as a local family we've known a lot about. 
"Now, getting the opportunity to do this, doing something we love to support Tŷ Hafan, it's just an amazing thing." 
Rachel Ritter, Head of Major Gifts and Partnerships, said: "The amount of work that goes into the organisation of this event is incredible and to see it return for the 7th time is awe inspiring. We are so close to hitting the £1,000,000 mark this year and this is all down to the hard work and determination of David and Huw and the generosity of the chefs who give their time so willingly."
This year's sought-after event sold out within days. Each chef will cook specifically for a table of 10 diners who won't know which chef will be catering for them until the evening itself. 
Furthermore, diners have an opportunity to bid for the services of some of the chefs to cook for them at their own homes or a private venue of their choice at a later date. 
Check back on our news page to see if they reach their target… 
We must extend a huge 'thank you' to everyone who has worked hard to make this event the success it undoubtedly will be.