Not everyone can come to our hospice regularly because of caring, work commitments and travel restraints. And, as demand for our services grows and we continue to recover from the COVID-19 pandemic, we're still not able to offer as many stays at our hospice as we would like to.  
For those families who can't often come to see us but want to engage with our services, our Community Hubs that are held across Wales bring a piece of Tŷ Hafan straight to them. 
Our Community Hubs are meet-up events that are designed for fun and relaxation, meeting new friends and getting and giving emotional support.  
They're set up by our Family Wellbeing Team who hit the Welsh roads a few times each month, including our:  
Family Support Practitioners

 

Family Support Workers

 

Play Workers

 

Sibling Support Workers

Complementary Therapists

Play Workers.
The families we support can come along and take some time out. We deliver calming complementary therapies at these Hubs, like massage for the adults and story massage for the children.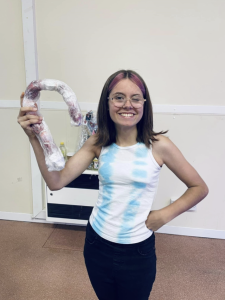 We set up games, arts and crafts, our very popular sensory tent and refreshments, and we're there to have fun with the kids and talk to families about anything they'd like to talk about; that could be a chat about the latest series they're watching on Netflix, supporting with the challenges they're facing or anything in between. 
Plus, the ingenious staff at Cardiff Museum sometimes come along with fascinating science-themed activities for the children to enjoy.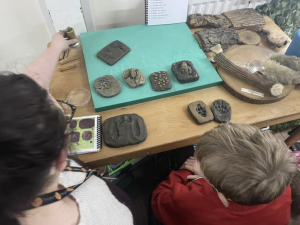 One of the biggest impacts of these Hubs is families being able meet other people who can relate them and what they're going through. We often see families swapping numbers and meeting up with each other outside of the Hubs, creating their own support networks in their local communities.
"Our daughter, Lilly, goes for stays at Tŷ Hafan which she loves. It gives her some time out of the house. It's really important to me to meet new families and have a chat and just be able to offload. The children get to do a lot of different activities like arts and craft they love going to the events – even the older ones!" – Catherine
"Community Hubs give us all the best of Tŷ Hafan in a local one–stop shop setting. Meeting old friends, making new ones, themed crafts and games, complementary therapy, advice, coffee and cake are all within a relaxed and happy atmosphere. The monthly Hub gives my daughter and I an experience to look forward to." – Carrieann 
Handcrafted comes to Community Hubs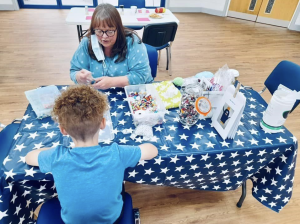 Handcrafted by Tŷ Hafan is a project that sees the lovely Penny and her volunteers create sustainable crafts from donated supplies for sale on our Etsy shop.  
Because Penny is a dab hand at all things crafty, she sets up camp at our Community Hubs so that families can get creative – and not just the children!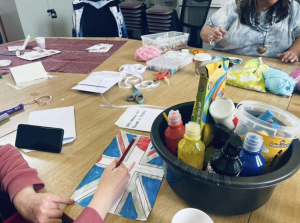 "I bring easy craft play that all ages can do. We make name bracelets, do painting and colouring and we make activities for the children to play with.
"Both the children and adults can come over to me and sit down and get involved in a craft activity like painting and it can really help them relax by getting absorbed in a simple calming activity." 
 We are incredibly privileged to be able to support families in their local communities. To find out more about the ways you can support us, click here.