On 7th May, a group of eight Tŷ Hafan mums will be tackling Snowdon (Yr Wyddfa), Cadair Idris and Pen-y-Fan. And the most amazing part? Most of these ladies are new to the world of mountain walking! You can find out more about their personal stories in the heartwarming video below…
One of the inspirational mothers taking part is Marie. Marie took pen to paper to share her story with us recently, and we feel very privileged to be able to share it with you today. 
*****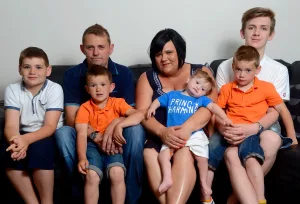 "My name is Marie. I'm wife to Ken and mum to five boys – Jack (26), Ellis (19), Kian (15), Riley (14) and Alfie (12).  I would love for you to read my story, as well as those of the other mums taking on this challenge and support us in any way you can.  
"We're hoping that this fundraising effort will help Tŷ Hafan carry on supporting the ever-growing numbers of families, including mine, that really need their help. 
"Alfie, my youngest boy, has a rare genetic condition – namely a 15q 26.6 deletion (a missing piece of chromosome-15) and a partial Trisomy 11 (an extra piece of chromosome-11). He is the only known person in the world with this condition which means we are never sure what the future holds for him. 
"So far, we know that Alfie has epilepsy, and is deaf, partially sighted, non-verbal and non-mobile, but we are always learning new things as he grows older. We were repeatedly told that he was unlikely to make it to any given age but as stubborn as he is, he continues to prove everyone wrong! 
"After he was born, we were overcome with emotions, not knowing if he would live or die. The early complications after his birth had a huge impact on us all – on the rare occasions I wasn't in hospital with Alfie, I was so tired that I could barely function as a parent. I had previously been fully hands on with my other four boys, but for a long time it felt like they lost their mum. Despite this turbulence, my boys have grown into the most amazing big brothers to Alfie.  
"Now that he's older, we can all look back and appreciate how much better Alfie has made our lives. He takes life at a slow pace, and this is something that Alfie's taught each of us as well. Slowing down, breathing deeply, and taking a look around us lets us appreciate how strong we really are. After all, our memories of the past and our lives in the present are the only things guaranteed in life. Alfie helped us to learn that it's so important to stop and appreciate every little moment when you're not sure if it might be the last.   
"We were referred to Tŷ Hafan when Alfie was around 2 years old and the support my whole family has had since then has been invaluable. My husband was initially reluctant to engage as he believed Tŷ Hafan was just a place where children went to die, but this couldn't be more wrong. Tŷ Hafan has turned out to be an incredible support network – especially for Alfie, but also for us as parents, and for his brothers.  
"The most surprising thing we learned was that Tŷ Hafan provides so much support for the siblings of life-limited children. They put on so many activities and adventures to make life for Alfie's brothers as enjoyable and as normal as possible. I really think that this helped them to come to terms with Alfie's situation in a much more mature way than you could ever otherwise expect from young children.  
"On May 7th, I am taking part in the Welsh 3 Peaks challenge alongside seven other supermums. This means completing Snowdon, Cadair Idris and Pen-y-Fan within 24 hours. I'm doing this to try and raise money and awareness for Tŷ Hafan so that they can carry on supporting my family and so many others like us. 
"It's safe to say that we couldn't imagine how difficult it would've been to cope with the stress and anxiety of our situation if it wasn't for all of Tŷ Hafan's help, and I know that this sentiment is the same for every other family that Tŷ Hafan has helped so far.  
"I am really scared that I'm not strong enough, mentally or physically, to do this. Just 18 months ago, I was so overweight and unfit that I could barely climb the stairs. I never would've dreamed of climbing one mountain, let alone three in such a short space of time. 
"People always told me I needed to be strong for Alfie. It was always easy to hear those words but so hard to ever put them into action. I know now that despite the fact I'm terrified, I need to do this to prove to myself I really am that strong, and I always have been. I also owe it to Tŷ Hafan to give something back to them, back to a place that has helped me and so many other families out of a really dark place on countless occasions. 
"If you know me then you will know how far out of my comfort zone all of this is. If you don't, then I hope this write up has given you some insight into the invaluable care that Tŷ Hafan provides for families like mine."
***** 
Marie, we are so inspired by your story. Thank you for sharing it with us.  
If you'd like to support these wonderful women, you can donate to the Mums vs Mountains JustGiving page here.