In the lead up to King Charles' coronation, we asked our supporters to join in with the celebrations and get their fundraising hats on with our new initiative, Tea for Tŷ Hafan. And it goes without saying that they did not disappoint!
In total so far, the Tea for Tŷ Hafan tea parties raised £7,375 for us! That's a fantastic donation and the whole sum will be put to good use, supporting our purpose of being a lifeline for children in Wales with life-shortening conditions and their families.
Tea for Tŷ Hafan took place between 29th April and 13th May and families, friends and colleagues got together to have some fun and raise money. We even had our own Tea for Tŷ Hafan in our Head Office!
Your tea parties
CarShop's tea party
CarShop on Penarth Road, Cardiff, had its very own Tea for Tŷ Hafan and the spread looks so tasty that our tummies are rumbling!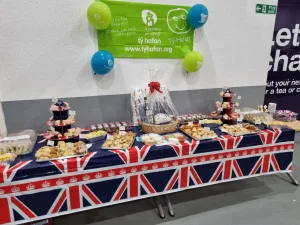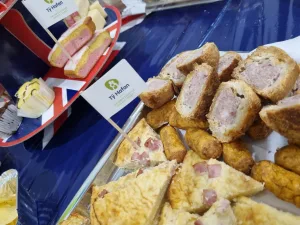 Suzanne Baxter's tea party
Suzanne Baxter certainly got the memo that sweet treats were strongly encouraged – look at all that cake!
 
Dianne Thomas' tea party
On sunny day, an outdoor tea party like Dianne Thomas' is a must!
And these beautiful tea parties don't even scratch the surface! Lots and lots of supporters put their kettles on this spring to celebrate the coronation and raise money for us. If you hosted a Tea for Tŷ Hafan tea party or you went along as a guest, thank you. We really appreciate your time and donations.
Host your own fundraising tea party
Tea for Tŷ Hafan might have come to a close, but it's not too late to have your own fundraising tea party. If you'd like to have a Tea for Tŷ Hafan tea party, get in touch with us through supportercare@tyhafan.org and download your free tea party resources (bunting, invitations and posters) by clicking here.