A Tŷ Hafan fundraising campaign which raised more than £344,000 for the charity last autumn has picked up three major communications awards. 
Our autumn 2022 'When Your World Stops' fundraising campaign, run in conjunction with Cardiff-based marketing and communications agency Cowshed, focused on the support our charity provided for the Jeans family from receiving a devastating diagnosis of inoperable cancer until the death of baby Rose Jeans two days after her first birthday.
The target was to raise £250,000 to support our work with children with life-shortening conditions and their families in Wales. The campaign far surpassed this with a final total of £344,649 raised.
On Thursday 22 June the campaign won the 2023 Public Relations and Communications Association (PRCA) Cymru Dare Charity / Not For Profit Award.
This was followed by two further UK national awards – the 2023 Chartered Institute of Public Relations (CIPR) Not for Profit Award, and, CIPR Best Use of Content Award announced at a ceremony in London on Wednesday 28 June.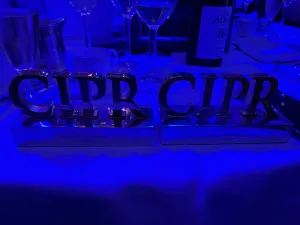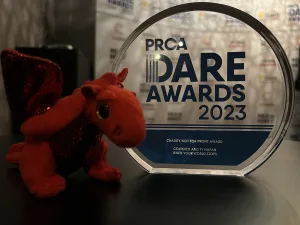 Maria Timon Samra, Chief Executive of Tŷ Hafan, said: "I am delighted that our 'When Our World Stops' fundraising campaign has gained this level of recognition, especially given the quality of the entries by the other Not For Profit finalists in both the PRCA Cymru and CIPR Awards.
"Firstly, I am deeply grateful to Andrew, Catherine and Oliver for sharing the story of their beloved baby Rose whom they honoured so beautifully by sharing this story and raising the profile of the work we do. This means can continue to support other children with life-shortening conditions, and their families, now and in the future.
"I know just how thoughtful my colleagues were throughout this campaign, with their heartfelt care for the Jeans family paramount at all stages of this process. From sensitively capturing the family's story on film to supporting them with media interviews, to post-event care, our team worked closely with the family to make sure they were comfortable and supported throughout. Also, sincere thanks to the team at Cowshed for their compassion, expertise and energy in the planning and execution of this campaign, complementing and extending our in-house capabilities.
"Finally, I am incredibly grateful to all those who supported this campaign in whatever capacity.  Your support enables us to make a difference to children and families who are facing the unimaginable loss of their child."
Kate Mann, Associate Director at Cowshed, said: "At Cowshed we are committed to doing work with meaning for causes we believe in. As our chosen charity for 2022 it was a huge privilege to work with the Tŷ Hafan team to help tell the Jeans family's story in memory of Rose. The collaborative approach between the Jeans family, fundraising and communications teams and Cowshed is what made this campaign truly special. The campaign had a huge impact on the team at Cowshed, and we will always remember Rose and the legacy she has left ensuring more families receive this irreplaceable care."