All the way back in August 2021, Kooko decided to take part in the Walk a day in their shoes challenge to raise money for Tŷ Hafan. Kooko, along with her mum, Ceri, walked an admirable five miles and raised a grand total £237.75 for us.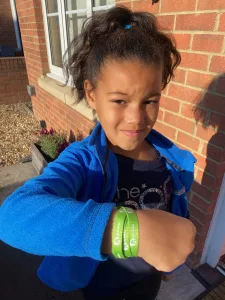 Keen to see where the money she raised would be going, Kooko visited our hospice. Because of the pandemic, she was only able to come into our grounds, so we held a cheque presentation with her outdoors.
But this inspiring girl's fundraising didn't stop there… In 2022, Kooko doubled her distance and walked 10 miles for Tŷ Hafan, this time raising a further £576.25!
We welcomed her to the hospice once again and she was greeted by a cheer squad, which included Ollie, one of the children we support. This time, Kooko was able to have a walk around our gardens.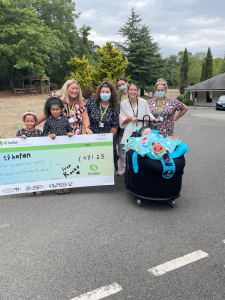 Because Kooko has shown herself to be such a superstar fundraiser, we absolutely had to recruit her as an appeal champion for our When your world stops appeal in November last year. Unsurprisingly, she blew our socks off yet again by topping her previous total and raising £588!
It was our pleasure to invite Kooko to our Celebration Tea Party at the hospice this year as a 'thank you' for her for her amazing work.
Next week, Kooko is doing a 15-mile walk and has so far raised £358.75 just through JustGiving. That brings her total as it stands to £1,760.75!
With such a busy couple of years being a fundraising hero, it comes as no surprise that Kooko was nominated to receive the County Award for Charity and Fundraising at Brownies.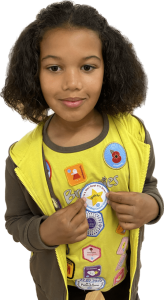 "I started raising money for Tŷ Hafan because it's a wonderful place that cares for poorly children. The people who work there are very kind and work very hard every day," Kooko tells us.
"It's brilliant. It's always her idea – it's always off her own back," adds mum, Ceri.
Needless to say, all her family and friends are really proud of her. And we're proud of you too, Kooko!