"When you have your first child you think everything is going to be rosy," said Andrew, from Cardiff.
"And for the first few weeks everything seemed fine with Oscar. But as he developed, he wasn't meeting his milestones and as he grew he couldn't do anything for himself. I was 21. Jen was 18.
"Oscar had to be fed by tube. He could make noises but he wasn't verbal. He couldn't grasp things and he couldn't hold his head up.
"Even when the doctors explained everything to us and told us that babies with Menkes Disease don't live past their teenage years, we still thought to ourselves: 'Every child is different. We'll have Oscar for ever.' But the older Oscar got, the worse he got," says Andrew.
Referred to Tŷ Hafan, Oscar first visited the hospice in March 2013.
"A nurse in the neurological ward gave us a referral to the hospice. 'There's help out there, if you want it', she said. At first, we said, 'It's OK thanks, we're fine'.
"Then my sister, who is a nurse, said Tŷ Hafan are really good. So we decided to take a look and it was the best thing we ever did.
"We were just expecting another hospital, but from the minute we walked in we could just relax. It's like home to us and we were waited on hand and foot.
"Also, the more I went there, the more we understood."
At Tŷ Hafan, Andrew, Jen and Oscar were able to make precious memories together before Oscar died in June 2014 at just two-and-a-half years old.
"When Oscar passed away he was taken to the hospice where we were able to spend the night with him. It so was comforting for us. All our family came with us. They were there for everyone – both sets of families. At Tŷ Hafan they just treat you as family.
"I don't know how we would have coped without Tŷ Hafan," says Andrew. "They've given us so much, it just makes me want to support them in whatever way we can."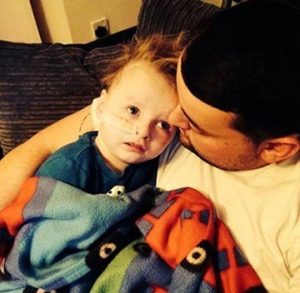 Andrew, also dad to Theo, five, and four-year old Millie, first did the Taff Trail Cycle Challenge for Tŷ Hafan in 2013 and, to date, has completed the challenge four times.
"It's an absolutely brilliant fundraising event," he says. "You get encouragement from everywhere, from the marshals, from people stopping you in the street to ask you what you are doing.
"Then when you finish and you see everyone there – your friends and family and Tŷ Hafan staff.
"Even if you are not fit, the Half Taff from Merthyr to Cardiff is pretty much downhill all the way anyway!
"To anyone who wants to get a real buzz from a great bike ride while helping a fantastic charity in the process, I would say sign up for the Taff Trail – you won't regret it."
Paula Langston, Head of Community Fundraising for Tŷ Hafan, said: "We are delighted to bring back the famous Taff Trail Cycle Challenge for 2022! Taking place on Sunday, 4 September, there are two challenges to choose from: for those aged 16 and over, you can do the 79km from Brecon Theatre to Cardiff Blackweir Fields – the Full Taff. And for cyclists aged 12 and over, cycling with a responsible adult, the other option is the 41km route from Merthyr Leisure Centre to Cardiff Blackweir Fields – the Half Taff.
"Whatever distance you choose, you'll be doing something amazing for children with life-shortening conditions, like Oscar, and their families across Wales."
The entry fee is £12 per person and you can enter as an individual, or as part of a team.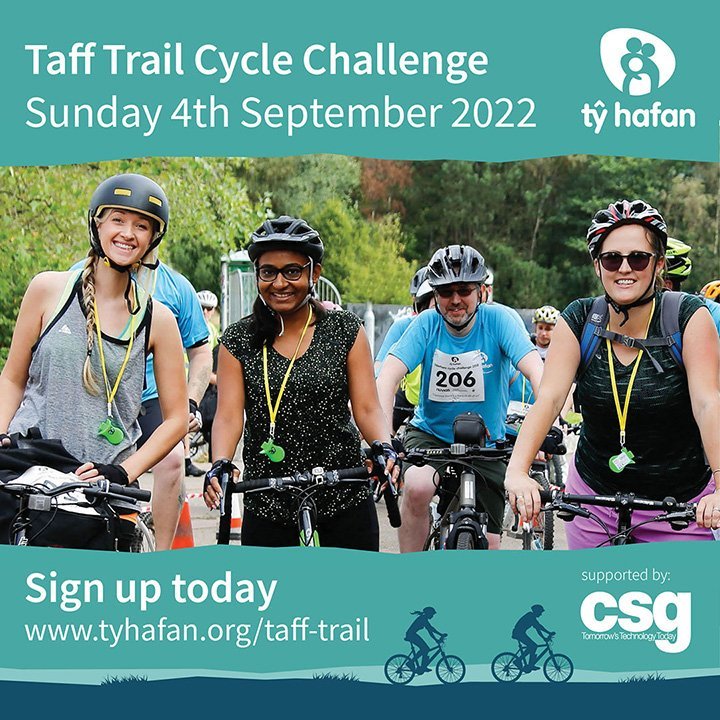 Participants of this year's event, which is sponsored by award-winning IT company CSG, will need either a mountain bike or a hybrid bike and everyone will receive an exclusive event technical T-shirt and a bespoke medal at the finish line. In addition, a professional photographer will be capturing images along the route so you will be able to look back over these photos and see yourself in action.