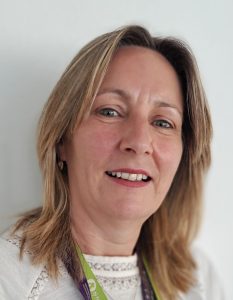 Tracy Jones, Tŷ Hafan's former Head of Community & Partnerships, has been appointed to the new role of Director of Family Well-being and Outreach Services. This new directorate is a first for children's hospices in the UK.
Maria Timon Samra, Chief Executive, said: "The new role of Director of Family Wellbeing & Outreach Services reflects Tŷ Hafan's commitment to ensuring that children in Wales with life-shortening conditions, their siblings and families can access care and support when and where they need it most.
"Since joining the charity in 2009 as a senior family support practitioner, Tracy has successfully built out our community propositions. A key contributor in our care leadership team, she has always put children, young people and families at the heart of everything we do to ensure they benefit from Tŷ Hafan's services, whether in the hospice, at home, in hospital or in the community."
A qualified social worker, Tracy Jones, said: "I am very excited to join the executive team and to have the opportunity to lead and further develop our family wellbeing and outreach services. I have had the immense privilege of meeting hundreds of families during my years at Tŷ Hafan and know, from listening to their stories, just how much they value our community-based support and this is something I hope to be able to grow. I look forward to working closely with the families and my colleagues to continuously improve the services we offer."
Also joining Tŷ Hafan's executive team is Jenna Lewis, who has been appointed to the role of Director of Income Generation.
"Jenna is no stranger to Tŷ Hafan, having previously been Head of Individual Giving for the charity from 2012-2015," said Maria Timon Samra. "As a Trustee during that time I was really impressed by Jenna's professionalism, clarity of thought, insightful use of data and her commitment to generating income to support the provision of care.
"With extensive charity experience, over the past seven years Jenna has further developed her expertise, including in the role of Director of Fundraising and Communications at Llamau.
"It has been a pleasure to give her a warm welcome (back!) to Tŷ Hafan."
Said Jenna, who has also previously worked for Horatio's Garden and Macmillian Cancer Support: "Tŷ Hafan is an iconic Welsh charity which has provided care and support for more than 1,100 children with life-shortening conditions and their families in Wales since it first opened its doors in 1999.
"It now costs £5.2m a year – equivalent to £14,500 a day – for us provide those care and support services. The vast majority of that sum we raise ourselves, thanks to the generosity of our amazing supporters in Wales and beyond.
"This is an incredibly challenging time to be fundraising with the rise of cost of living hitting everyone hard, but it is so important that we are able to raise the funds we need to ensure that every family with a child with a life-shortening condition in Wales gets the support and care they need, when and where they need it. I am very excited about working with my colleagues across Tŷ Hafan to ensure we are there for every family in Wales who needs us."