Happy St. David's Day!
Every year on 1st March, Welsh people around the world raise a toast to St. David – the greatest figure in the Welsh Age of Saints – an irony given he was a strict teetotaller. 
The founder of scores of religious communities and the only native-born patron saint of the countries of Britain and Ireland, St. David established many religious communities and gave his name to the smallest city in Britain. 
Legend has it that his mother, Non, gave birth on a cliff-top in Pembrokeshire – during a fierce storm. And, at that exact moment, a bolt of lightning from heaven is said to have struck the rock, splitting it in two. 
And speaking of rocks, like any seaside tourist, David reputedly brought back a rock – though not the pink boiled sugar kind – from his pilgrimage to Jerusalem. 
That stone now sits in an altar at St David's Cathedral, built on the site of his original monastery. 
Handcrafted's St. David's Day gifts
With St. David's Day approaching, we must showcase the hard work of Handcrafted by Ty Hafan, which creates beautiful crafts for sale on its Etsy shop. 
A focus of Handcrafted is to design and make crafts that celebrate Wales. The money from every purchase of Handcrafted's products goes straight to Tŷ Hafan.
Below are some of the products that we think would make wonderful gifts or decorations for St. David's Day this year.
Heart-shaped 'Cwtch' wooden hanging sign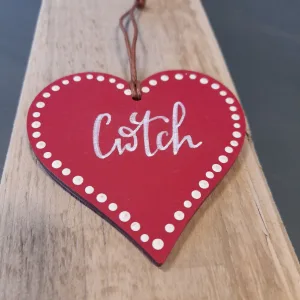 Our heart-shaped and heart-coloured Cwtch hanging signs with white lettering would make a sweet gift for someone you love. Or someone you know who needs a cwtch! They have been lovingly handmade and hand-painted by the Handcrafted team.  
£5.00 
Sheep hanging decorations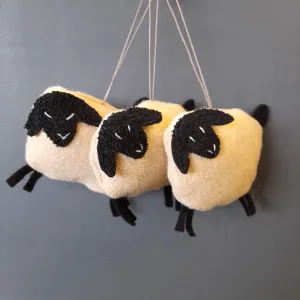 These sheep are simply adorable and they're looking for loving homes! They have been made from recycled Welsh blankets and black felt and would be a cute and cosy addition to any home.
Price: £5.00 
Cymru am Byth
Welsh handmade bunting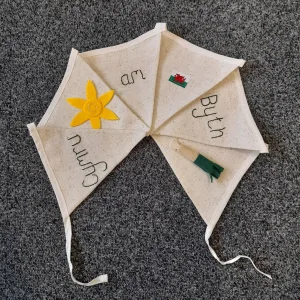 Our six-flag bunting has the words Cymru am Byth embroidered across three of the flags, which means Wales forever. The other three flags feature iconic symbols of Wales: a daffodil, the Wales's national flag and a leek.  
We know that this brightens up any space. In fact, one shopper who now lives in Australia uses this bunting to decorate her car as a reminder of her Welsh roots. 
Price: £12.00 
St David's Day daffodil badge/brooch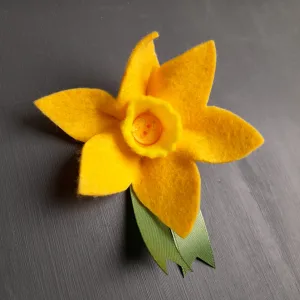 It won't be long until daffodils are shooting up far and wide! These dainty felt daffodil brooches are great for celebrating St. David's Day or simply the beginning of spring. They come attached to a green ribbon and feature a yellow button and a metal easy-close badge pin. 
(…The actual yellow colour of daffodils can vary slightly!). 
Dimensions: 13 cm x 9 cm 
Price: £5.00 
Dark denim Wales flag woofachief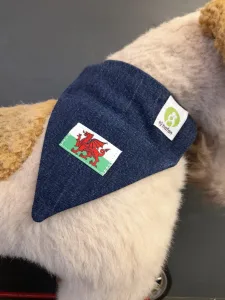 This doggy bandana (aka woofachief!) has been created with recycled denim. Perfect for a dapper dog, it slips over their collar for a comfortable fit and a flash of Welsh charm. They come in two sizes: 16 x 13 cm and 20 x 17 cm. 
Price: £5.00 
Happy St. David's Day, everyone.  If you would like to find out more about Handcrafted, including how you can join the team as a volunteer, click here.