Ian Waddell is about to turn 85-years-old. And while that in itself is a feat to behold, on 6th March (which is the week of his birthday!), he will be braving the very early hours of the morning to walk 35 miles from Brecon to Pontypool, all in aid of Tŷ Hafan.  
The 15-hour walk is going to prove especially strenuous for Ian as he has severe osteoarthritis. 
On his Just Giving page, Ian shares: "At age 85, this is my swansong. Might be said a bit of comedown from mountains, but my pain is now so severe due to osteoarthritis it is the only option I have left.
"Having lived a varied life, though unusual at times, at least I will have lived that life which is more than children  at Tŷ Hafan, with many not reaching their teens. So even in these tough times, please help me make that little extra possible."
Following his many different charity walks for many different charities, Ian admits that this is likely going to be his last. Ian's walking career has been varied, and aside from his upcoming challenge, in August last year, Ian climbed the 701-metre-high Pen Cerrig-calch to raise money for Tŷ Hafan.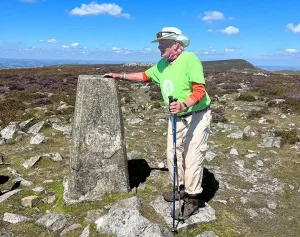 If you can spare any amount of money, no matter how big or small, you can donate to Ian's JustGiving page here. Every penny will go straight to Tŷ Hafan. 
Ian, we are all inspired by your determination. Thank you for everything that you've done for Tŷ Hafan and your other charity causes. Good luck for the 6th and thereafter during your well-deserved retirement. 
Why not get involved? Discover how you can fundraise for Tŷ Hafan here.