Tŷ Hafan Children's Hospice has been named Charity of the Year at the prestigious Cardiff Life Awards for the second time in three years.
Tŷ Hafan also won this prestigious award in 2021 for our charity's response to the pandemic and this year's award shows we did not stop there.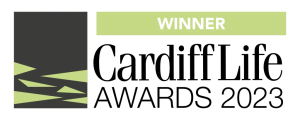 This year Tŷ Hafan is proud to share the top spot with mental health charity bigmoose. 
Our entry focused on the amazing work that our Care team are doing taking Tŷ Hafan to communities around Wales with our Community Hubs.
The Cardiff Life Awards judges said they were impressed because: "Tŷ Hafan has stepped up its charitable efforts with its hugely positive Community Hubs Scheme in South Wales, changing the lives of children and families alike."
Maria Timon Samra, Chief Executive of Tŷ Hafan, said:  "As we struggled to re-establish all of our services post-pandemic, our family wellbeing and outreach services team responded with determination and innovation, creating Community Hubs that enable us to reach more families across the geography.  Having proven the concept of 'hospice in the community', and funds permitting, we plan to continue to expand this service as families clearly appreciate us coming to them.
"I would like to dedicate this award to all of the wonderful children with life-shortening conditions and their families whom we have the privilege of supporting, as well as to our amazing supporters, volunteers, funders, donors, ambassadors and trustees, and, of course, my hard working and inspirational colleagues, all of whom enable us to make it happen.
"I'm so proud of Tŷ Hafan jointly winning the charity award at Cardiff Life Awards 2023. We are honoured to have been selected from this esteemed group.  Many congratulations also to Big Moose who share this accolade with us.
"The cost-of-living crisis continues to create additional challenges for us, particularly in terms of income generation. However, in the spirit of our late founder Suzanne Goodall OBE, we are determined to be there, always, for the children and families who need us."
Supporter Care Manager James Davies-Hale and Social Media Executive Sarah Langley received the bespoke slate trophy on behalf of the entire Tŷ Hafan community at a black-tie dinner at Cardiff City Hall last Thursday (23 February).
The other charities shortlisted in the Charity of the Year category were: Boomerang Cardiff, Bullies Out, City Hospice, Dreams and Wishes, Hijinx Theatre, Oasis Cardiff and Tenovus Cancer Care.
To find out more go to: https://www.cardifflifeawards.co.uk/2023-winners/