All the way back in 1998, GE Aviation started the Welsh 3 Peaks challenge.  
Teams of walkers scale Snowdon, Cadair Idris and Pen-y-Fan back-to-back. That's a 20.35-mile-long walk and an ascent of 9,397 ft in one day! 
It came from humble beginnings, with the first of its kind only featuring two groups. 
In 2023, 25 years on, the Welsh 3 Peaks challenge hasn't lost momentum, and it has raised an enormous £1,841,429 for us. 
Volunteering is a big part of working at GE Aviation. GE Volunteers all over the world are dedicated to taking part in charity events and community activities to make a difference. 
Employees from GE Aviation Wales, which is based in Nantgarw, love to volunteer as marshals at the Welsh3peaks event and enter teams every year.  
Since the event began, more than 1,600 GE Aviation employees have volunteered. That's a huge achievement and we're astonished (and very impressed!) by their commitment to this epic event and to raising money for us.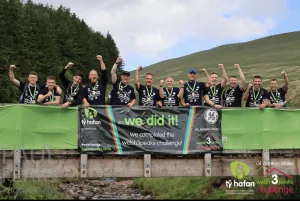 "The Welsh 3 Peaks is the first event in my calendar every year and has been since I first started at GE. It gives me a great sense of pride to be part of such a big event that helps so many others. Seeing the work that Tŷ Hafan does makes giving up my time an easy choice." – Gavin James, Cadair Idris marshal, GE Aviation
***
"Volunteering for the Welsh 3 Peaks challenge is one of the highlights of my year. Our marshal team is a family of like-minded people. Our sole purpose on that day is to assist the entrants safely from start to finish. Knowing that our support can provide families with happiness and meaningful moments during difficult times is what makes volunteering so special to me." – Sam Kemlo, Cadair Idris marshal, GE Aviation 
***
"I'm not sure what's harder. The training? The 4 am wakeup call? The hike up the mountains on the day? Or trying to get out of the car after the drive down to Pen-y-Fan and your legs have seized up? All that soon drifts into a distant memory as you realise you've come off that last mountain as a team and you've completed the Welsh 3 Peaks." – The Flying Sheep team, GE Aviation 
****
Teams of families, friends and colleagues from around the country – and world – enter teams for the Welsh 3 Peaks challenge. Craig Jackson, from Knauf Insulation in Cwmbran, has tackled the Welsh 3 Peaks in 2018, 2019 and 2022.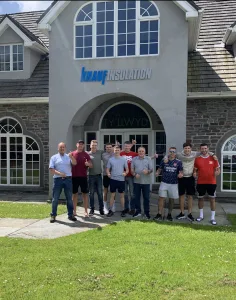 "2022 was the third consecutive year I had completed the Welsh 3 Peaks for Tŷ Hafan. I thoroughly enjoyed each time, and each year was different with the weather. It is very challenging and training preparation is a must! 
"The views and the scenery are something else and the adrenalin pushes you along as you take each mountain. I often tell work colleagues, family and friends of my experiences and would encourage anyone to sign up for this great cause." 
Sarah, who's our tip top Social Media Executive at Tŷ Hafan, took on the Welsh 3 Peaks in 2016 and is signing up again for this year. 
"I completed the Welsh 3 Peaks and it is honestly one of my proudest achievements, it was an incredible experience.   
"I did the challenge with my sister, stepdad, stepsister and my mum as driver, and I could not have done it without their support and the support of others taking part. We still laugh about when a marshal at Cadair Idris told us not to rush and to go at the pace of our slowest team member, then everyone turned to look at me.   
"We raised over £3,000 as a group as my sister's employer match-funded her money raised. So, not only was the experience itself amazing, but it felt amazing to raise this sum of money for Tŷ Hafan. I cannot wait to take part in 2023 for their 25th year of the event, it will be a celebration for sure."   
Signing up to GE Aviation Welsh 3 Peaks in 2023
With the big anniversary this year, there couldn't be a better time to sign up to the Welsh 3 Peaks challenge! Here's what you need to know… 
The details 
Event date: Saturday 10th June 
Location: Snowdon, Cadair Idris, Pen-y-fan 
Registration fee: £25 
Sponsorship goal: £200
About the event
The GE Welsh 3 Peaks is a walking event, not a race! Your team will have 15 hours to complete the challenge.  
You'll need a team of four walkers and one driver. The walkers will tackle the mountains and the driver will drive the walkers from mountain to mountain. 
You'll start with Snowdon, and then move on to Cadair Idris and Pen-y-Fan. There will be marshals on the day to look out for you, but you'll need map reading skills to navigate.  
This is an empowering event that participants adore, but it definitely requires training, so now is the time to dust off your walking boots!  
Discover the GE Welsh 3 Peaks challenge and sign up here.